---
Tis' the season when our homes become the canvas for our festive spirits, and what better way to celebrate than by adorning our abodes in ways that pay homage to the interior styles we adore? From the minimalist charm of Japandi to the groovy vibes of the 70s, let's curate a holiday lookbook tailored to your home's personality. Let's have a look into some christmas decor Ideas for 2023.

1. Japandi Christmas decoration
Japandi, a fusion of Japanese minimalism and Scandinavian functionality, creates a Christmas setting that is both serene and cozy. This holiday season, let's embrace the 'less is more' philosophy with a Japandi-inspired decor that speaks volumes through subtlety and balance.
Color Palette
In the Japandi aesthetic, your Christmas color scheme is muted and earthy. Soft pastels, neutrals, and the occasional pop of black or navy bring forward a sense of calm and understated elegance. These hues reflect the natural world in winter, evoking a feeling of a peaceful, snowy landscape.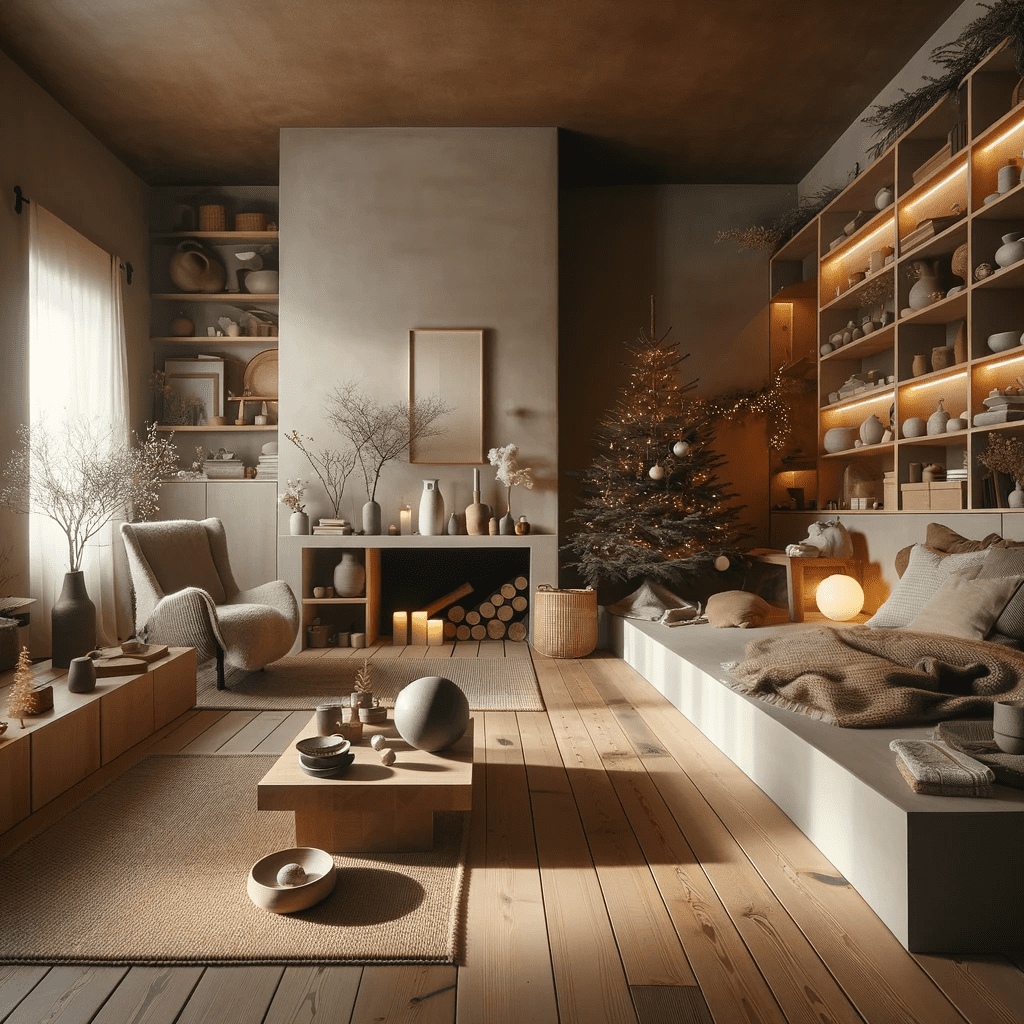 Decor Elements
Decorations are simple and purposeful, blending natural textures and clean lines. Think wooden ornaments, ceramic decorations, and textile accents that combine the handcrafted charm of Scandi design with the refined simplicity of Japanese decor.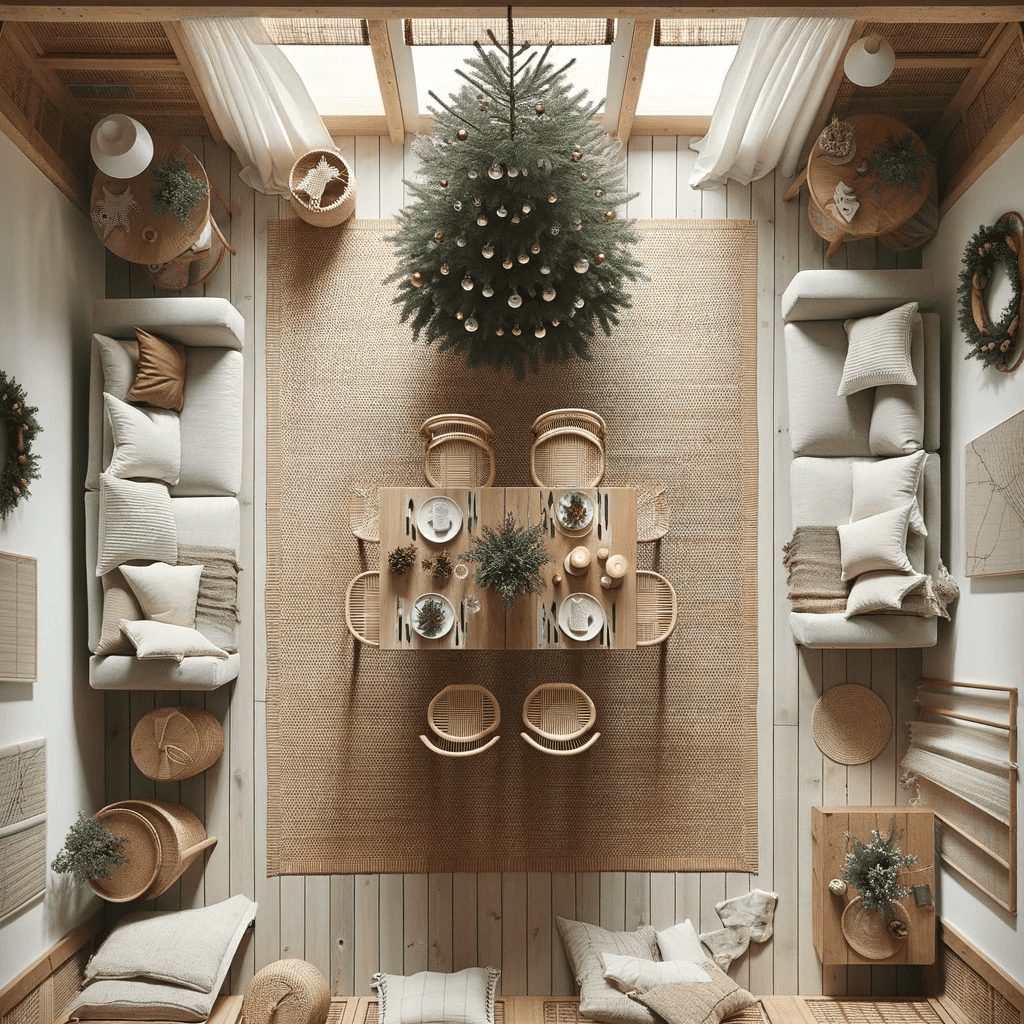 Window Elements
Your windows are adorned with minimal fuss. Natural fabric curtains or simple paper blinds allow soft light to filter through. A delicate, handcrafted mobile with natural elements like twigs and paper shapes can hang in the view, moving gently with the winter breeze.
Lighting
In keeping with the Japandi commitment to natural materials, opt for lighting that echoes elements of the earth. Paper lanterns, wooden lamp bases, and candles in ceramic holders cast a soft, warm glow that enhances the tranquil atmosphere.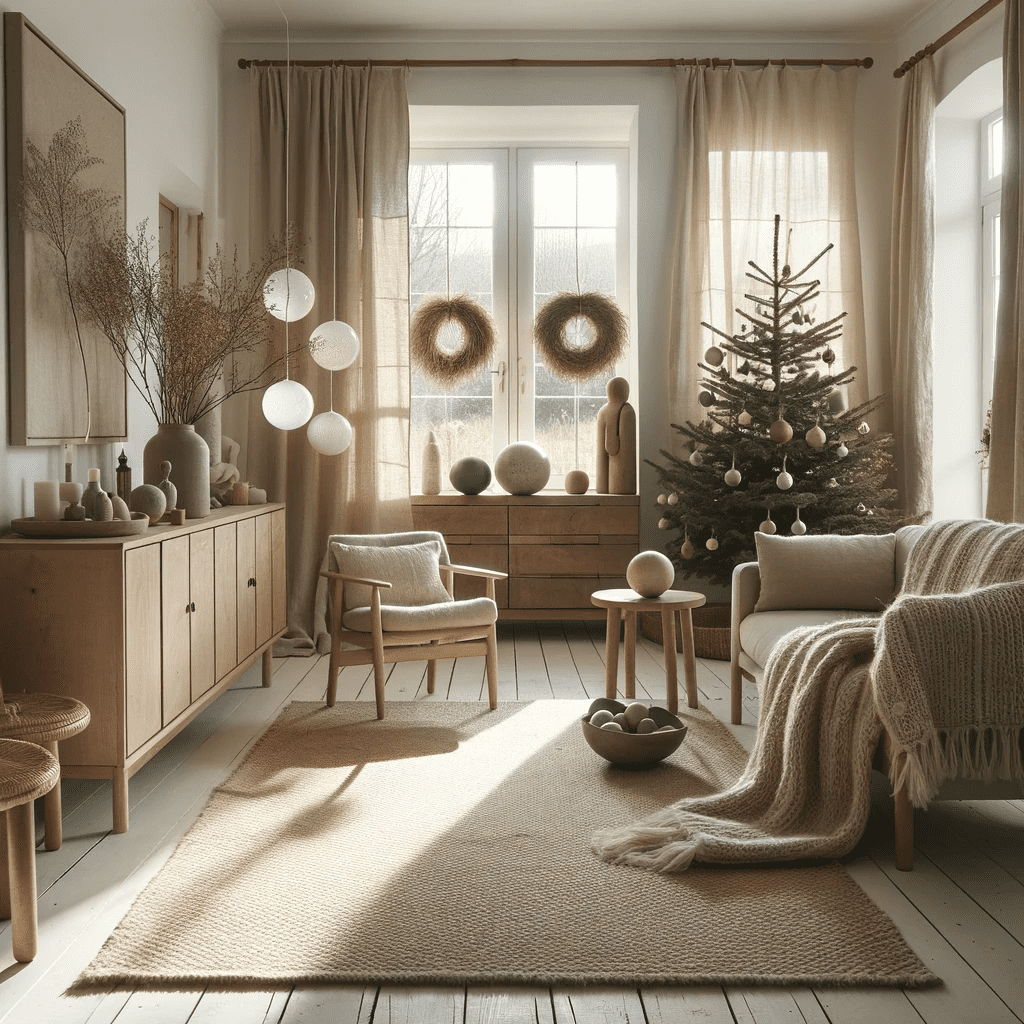 Christmas Tree
The Japandi Christmas tree is a testament to nature and craftsmanship. Decorate with handmade paper ornaments, wooden beads, and simple string lights. The tree, whether a traditional pine or a minimalist wooden alternative, stands as a symbol of natural beauty and quiet celebration.
Table Decor
Set a table that embodies minimalism with functionality. Use stoneware plates, wooden serving pieces, and linen napkins. A centerpiece of evergreen branches and pinecones complements the natural theme without overwhelming the senses.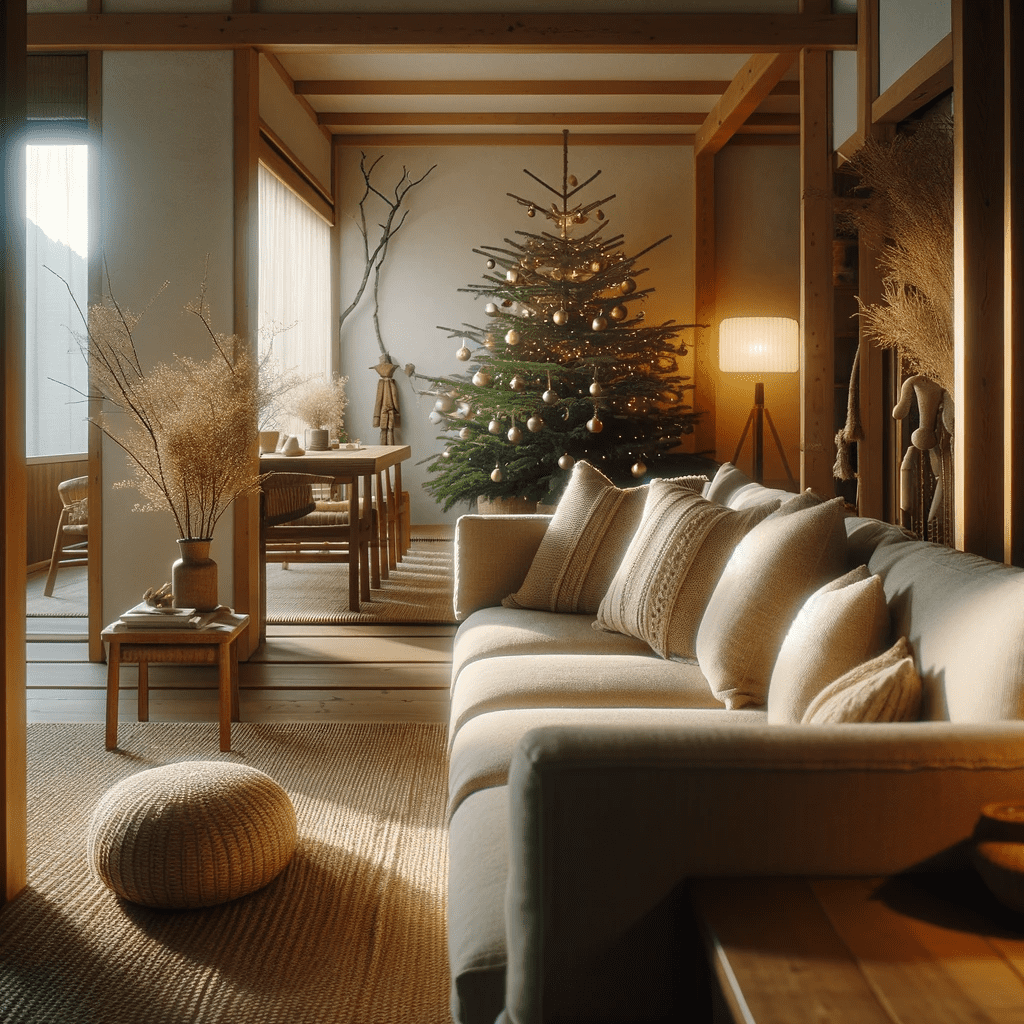 Accents
Accentuate your space with cozy textiles — wool throws, cotton cushions, and simple rugs that add warmth without clutter. Each piece should contribute to a sense of harmony and balance, with a focus on blending the indoors with the natural world outside.
DIY Idea
Create your own Japandi-style paper stars using origami techniques. These can be hung on the tree, placed on the table, or displayed around the home for a personal touch that pays homage to the artistry of both Japanese and Scandinavian cultures.
2. Boho Style Christmas decoration
The free-spirited essence of Boho style lends itself to a vibrant and eclectic Christmas. It's a festive canvas that invites playfulness and a break from tradition, perfect for the individualist looking to sprinkle some unconventional charm around their home this season.
Color Palette
Boho Christmas is a merry medley of saturated jewel tones – think emerald greens, ruby reds, and sapphire blues, offset with earthy tones and flashes of metallics for that festive sparkle. It's a kaleidoscope of color that promises a joyful and lively holiday atmosphere.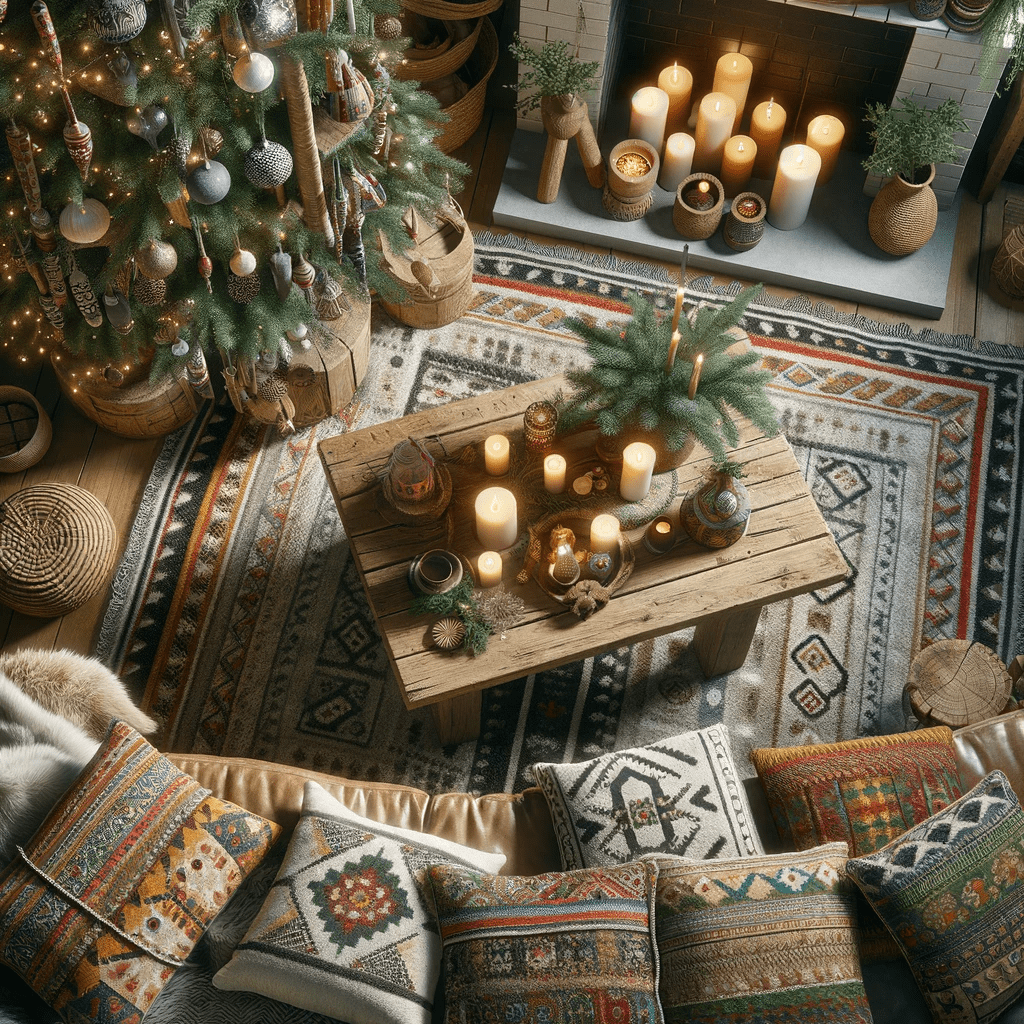 Decor Elements
Channel the bohemian spirit with a mix of textures and patterns. Embroidered fabrics, macramé ornaments, and beaded garlands bring a handcrafted feel. Mix in vintage finds and globally-inspired pieces for a well-traveled look that tells a story with every detail.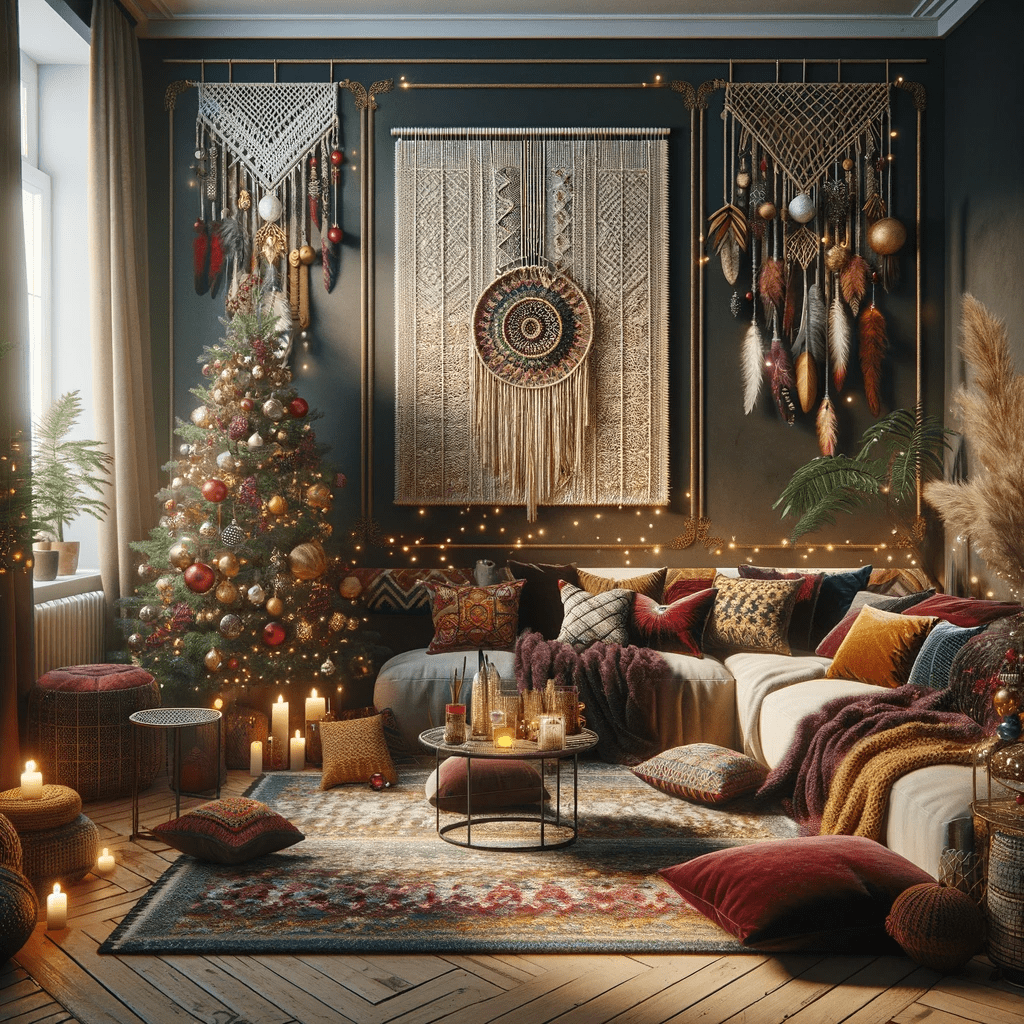 Window Elements
Windows become frames for the Boho soul's expression. Hang colorful glass or macramé hangings that catch the light, and drape garlands of fabric or tassels that add movement and depth. The goal is to create a sense of dynamic beauty, a window to the world of Boho festivity.
Lighting
Fairy lights are the quintessential Boho lighting choice, but for the holidays, why not add lanterns or even a collection of mismatched candles in jewel-toned holders? The more eclectic, the better – it's all about creating a cozy, inviting glow that beckons people into the space.
Christmas Tree
Think of the Boho Christmas tree as an artist's palette. Adorn it with a fusion of ornaments: handmade trinkets, vibrant feathers, and even dream catchers. Layering different textures and materials, such as fabric alongside glass or metal, results in a tree that's as unique as the Boho philosophy itself.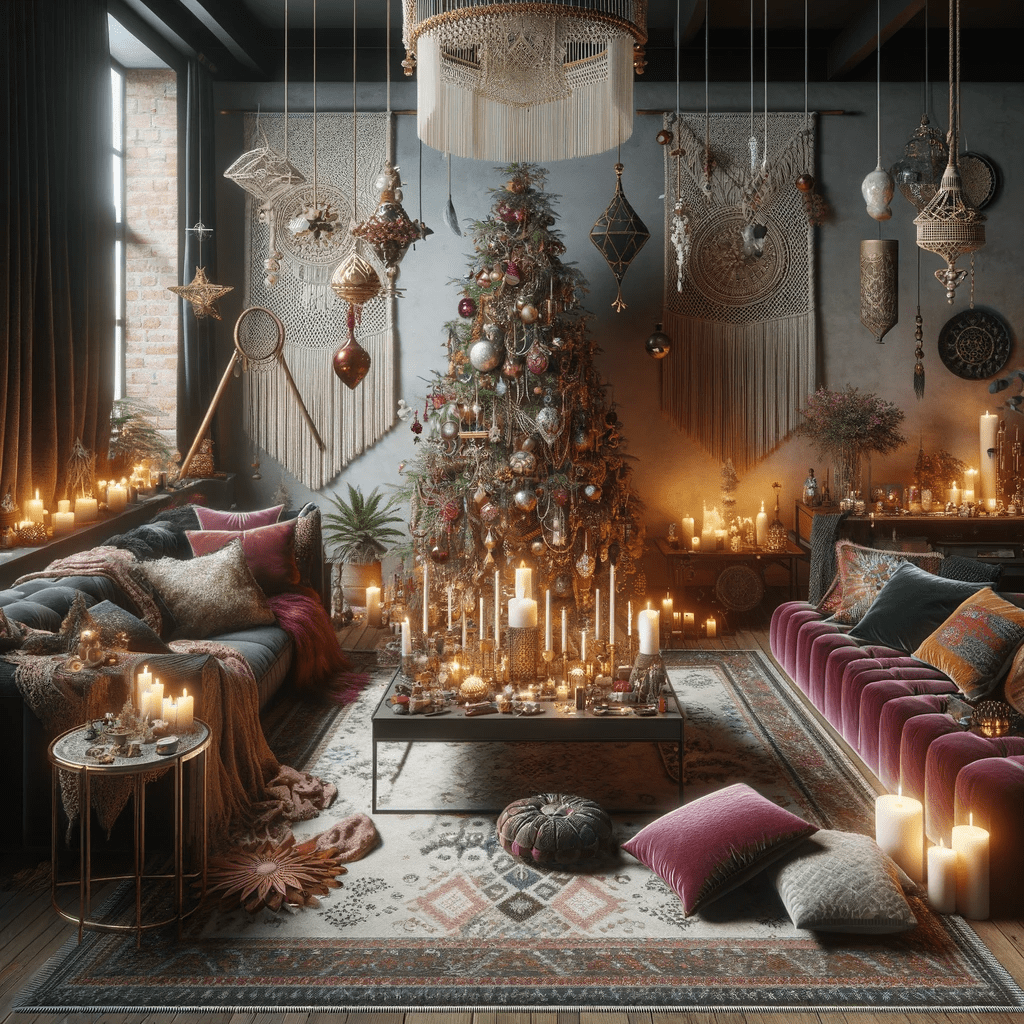 Table Decor
Lay a foundation of mixed textiles for your table setting – perhaps a patchwork runner or a combination of patterned napkins. Eclectic dishware and mismatched glassware continue the Bohemian theme, with centerpieces featuring wildflowers, succulents, or brightly painted pinecones.
Accents
Boho accents are all about a personalized, 'collected-over-time' feel. Scatter plush pillows and throw blankets in a variety of textures around the living area. Hang whimsical tapestries or a display of festive hats and scarves that invite guests to add to their holiday attire.
DIY Idea
Create a Boho Christmas wall hanging. Start with a branch or piece of driftwood and add strings of beads, feathers, and strips of fabric in a variety of patterns and colors. It's a piece that not only celebrates the season but also reflects the free-spirited nature of Boho style.
A Boho Christmas is more than a look – it's an experience. It's about embracing the joy of the season with a playful heart and an open mind, where the decorations are as boundless as the holiday spirit they embody.
3. Scandifornian Christmas decoration
Where Scandinavian minimalism meets California cool, a Scandifornian Christmas combines the best of cozy simplicity and laid-back elegance. This festive season, let's channel the airy brightness of the West Coast with the timeless Nordic charm for a celebration that's as refreshing as it is heartwarming.
Color Palette
Your Scandifornian holiday is painted in a palette of soft neutrals, accented with seaside blues and sandy beiges. This clean, calming spectrum takes cues from the coastal landscape, complemented by the occasional pop of earthy greens and warm woods.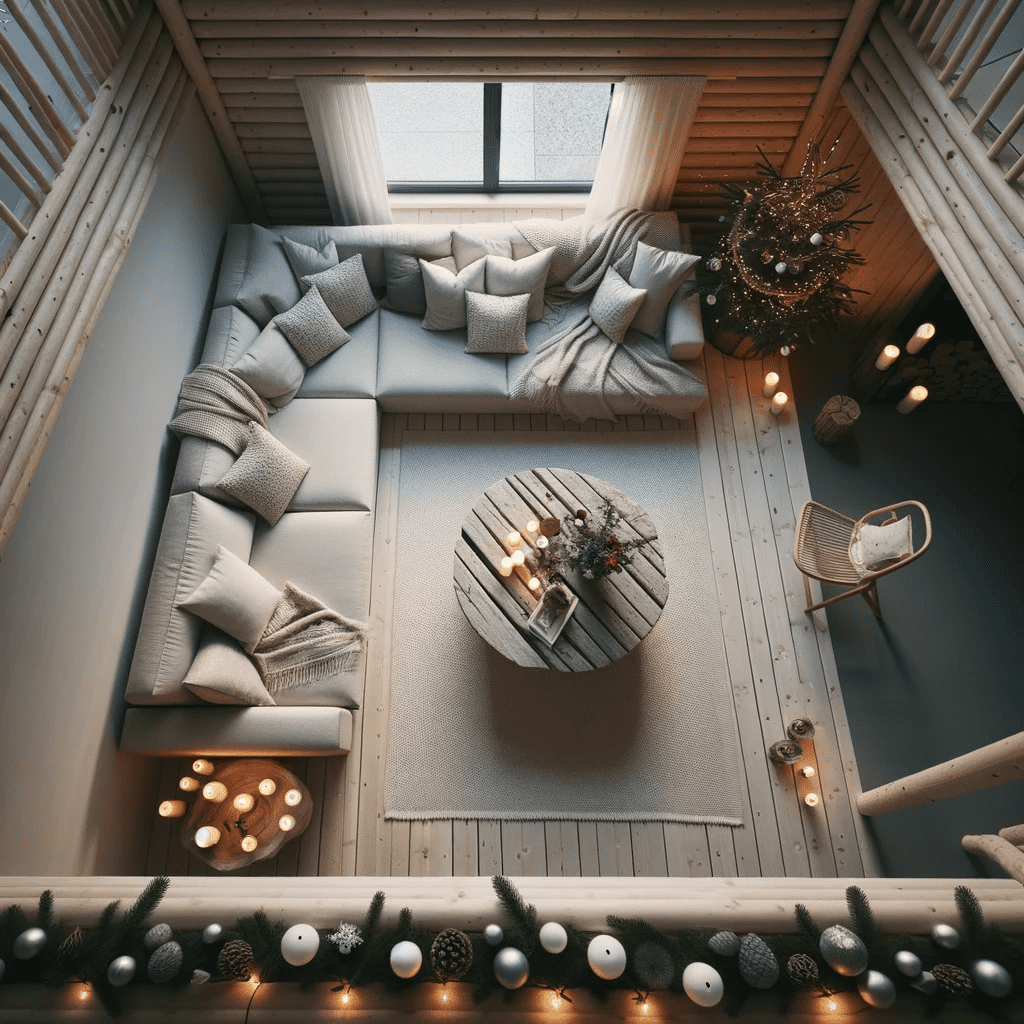 Decor Elements
Balance and restraint are key in Scandifornian decor. Choose ornaments with organic shapes and natural materials like wood, ceramic, and linen. Incorporate hand-thrown pottery and woven textiles to add texture without overwhelming the space.
Window Elements
Keep window dressings simple and light to let that California sunshine pour in, even on chilly December days. Airy linen curtains or bare windows adorned with a simple evergreen wreath echo the connection to nature that is quintessentially Scandifornian.
Lighting
Warm, subdued lighting is a must. Think candles in terracotta holders and soft-glow lamps that cast a gentle light on festive gatherings. The aim is to mimic the serene glow of a coastal sunset, wrapping your space in a blanket of tranquil light.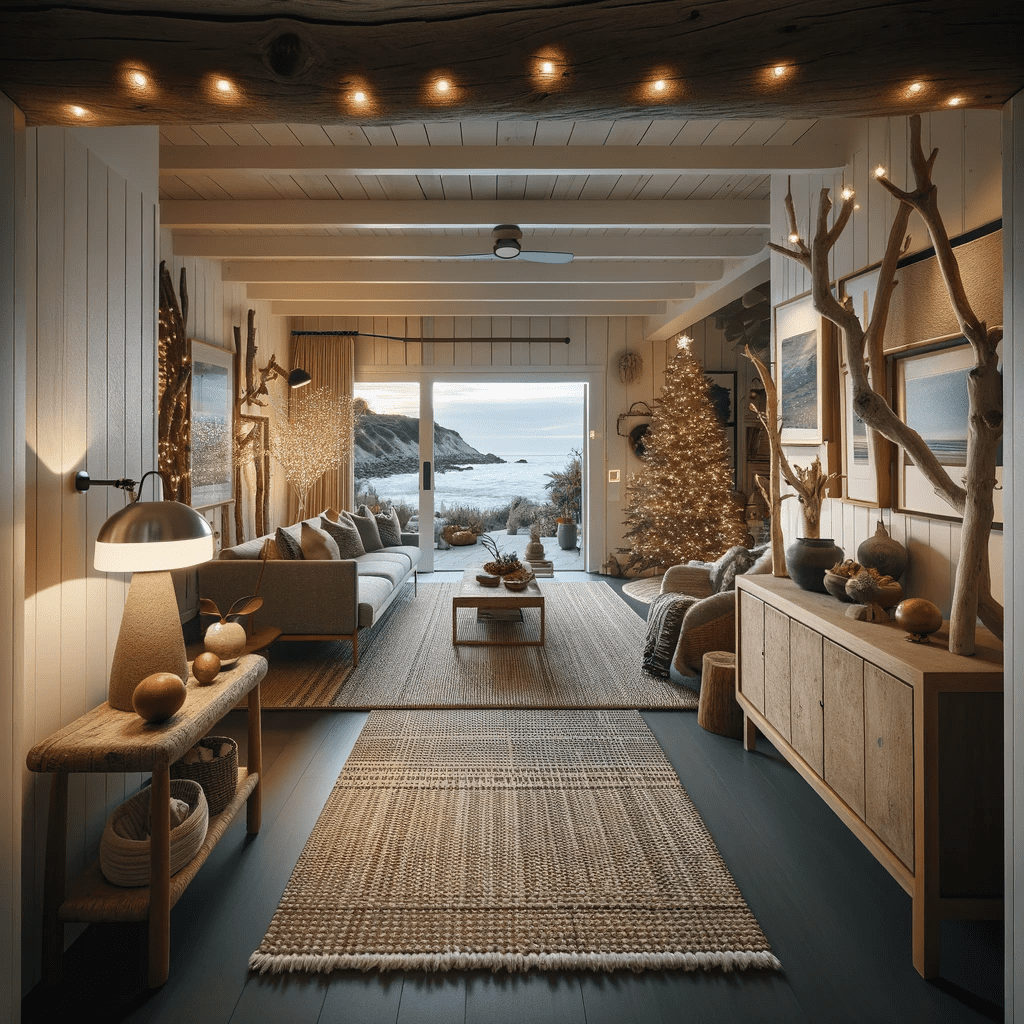 Christmas Tree
Your tree is a reflection of Scandifornian serenity with a festive twist. Adorn it with wooden ornaments, handcrafted ceramics, and lights that mimic the soft flicker of a fire. Let the tree's natural beauty shine through with sparse decorations that speak to both the Scandinavian and Californian love for nature.
Table Decor
Set a table that's the epitome of casual elegance. Utilize organic-shaped crockery, stonewashed linen napkins, and simple glassware. A centerpiece featuring driftwood, greenery, and candles creates a laid-back, festive atmosphere that's perfect for long holiday meals.
Accents
Incorporate cozy yet chic accents like chunky knit throws, potted succulents, and polished beach stones. These elements should evoke a sense of calm and comfort, blending the line between indoor and outdoor living.
DIY Idea
Craft a Scandifornian-style garland with a mix of eucalyptus, pine branches, and dried citrus slices. This project not only brings natural elements indoors but also fills your home with the fresh scents of a coastal Christmas
Embracing a Scandifornian Christmas means celebrating with an open heart and a home that exudes an effortless blend of warmth and style. It's about creating a holiday haven that's as inviting as a soft winter blanket and as rejuvenating as a walk along the beach.
4. Contemporary Christmas decoration
A Contemporary Christmas is all about embracing the now with a nod to the future. It's a festive homage to the sleek, sophisticated, and ever-evolving aesthetic of modern design. This holiday season, let's redefine tradition by bringing an elegant, cutting-edge vibe into the warmth of your home.
Color Palette
For the contemporary palette, think bold and contrasting yet refined. Stark blacks meet pure whites, punctuated by metallics like silver and chrome. Add depth with a splash of modern Christmas hues, like deep purples or vibrant blues, to inject personality and life.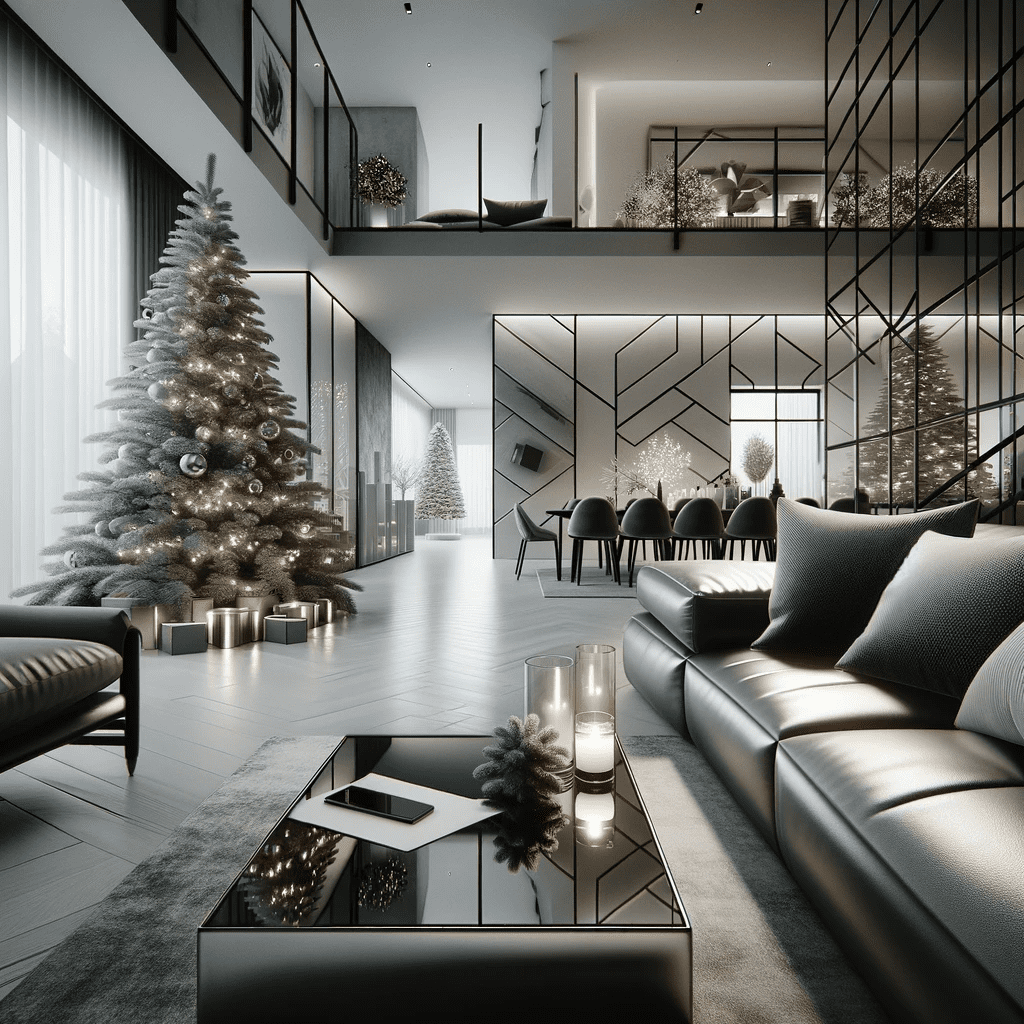 Decor Elements
Choose ornaments that make a statement with their geometric shapes and innovative materials, like glass, polished metal, and high-gloss finishes. Streamlined design with a focus on quality and uniqueness reflects the contemporary ethos.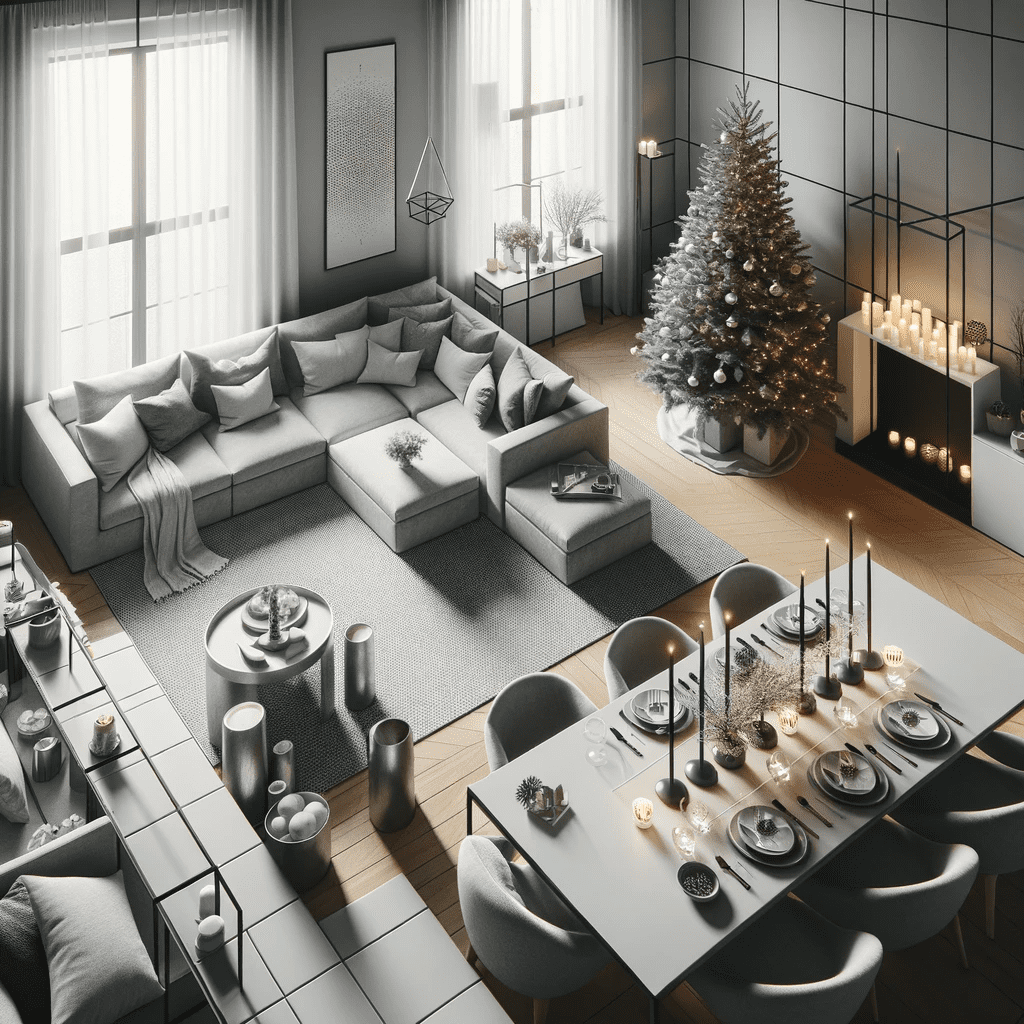 Window Elements
Dress your windows in sleek sophistication. Minimalistic blinds or geometric-patterned drapes in monochromatic tones complement the contemporary style. Consider a single, dramatic piece of stained glass or a sleek hanging sculpture to capture the eye.
Lighting
Lighting should be artistic and functional. Install sculptural fixtures that double as art, use spotlights to highlight your decor, or choose smart LED lights that can change color to suit the mood. The contemporary home plays with light to create drama and interest.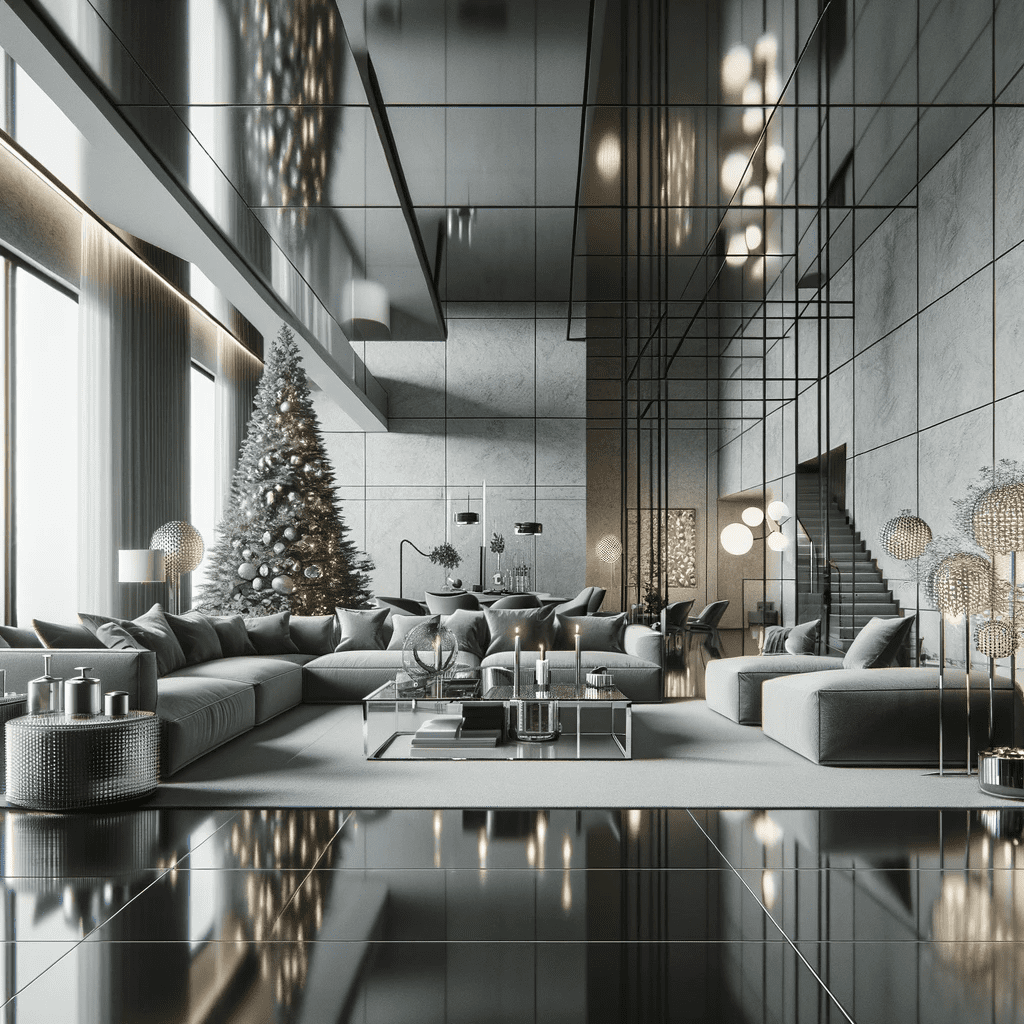 Christmas Tree
Your Christmas tree is a centerpiece that stands out for its stylish simplicity. Opt for a well-shaped tree with room for each ornament to stand out. Adorn it sparingly with high-quality baubles in your chosen color scheme and finish with minimalist lights for a subtle shimmer.
Table Decor
Set a table that's all about clean lines and understated elegance. Choose tableware with modern designs, crisp linens, and glassware that reflects the twinkle of your chic decor. A low, elongated centerpiece with floating candles or a sleek floral arrangement keeps the line of sight clear for engaging conversations.
Accents
Contemporary accents are all about bold statement pieces. Think abstract sculptures, oversized coffee table books, or a striking piece of modern art. Each element should contribute to the overall aesthetic without cluttering the space.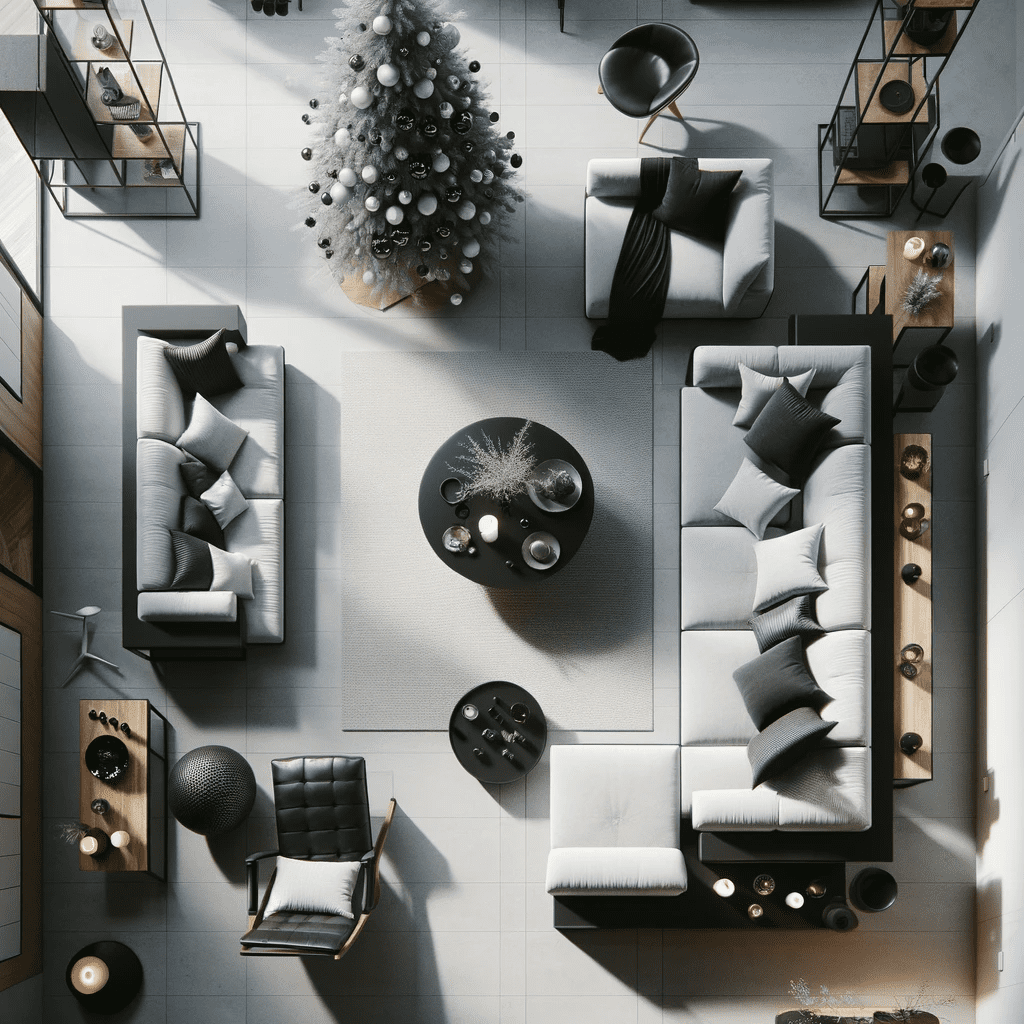 DIY Idea
Craft your own contemporary Christmas wreath using unexpected materials like metal tubing, acrylics, or even 3D printed elements. Design it with clean lines and consider incorporating LED elements for that modern glow
Celebrating Christmas with a contemporary twist is about melding the seasonal spirit with modern-day chic. It's a festive period that doesn't just look to the past for inspiration but also to the possibilities of the future, creating a holiday experience that's both stylish and heartening.
5. Asian Zen Christmas decoration
In an Asian Zen-inspired Christmas, we seek to harmonize the traditional vibrancy of the holiday season with the tranquility and balance inherent to Zen aesthetics. This decor theme invites peace and calm into the holiday hustle, creating a sanctuary where festivity and mindfulness coalesce.
Color Palette
The Zen palette is a tapestry woven with muted, natural colors. Think soft whites, gentle greys, and earthy tones accented by the tranquil blues and greens found in nature. This subdued scheme is a nod to the minimalist landscapes of Asia, providing a serene backdrop to your holiday festivities.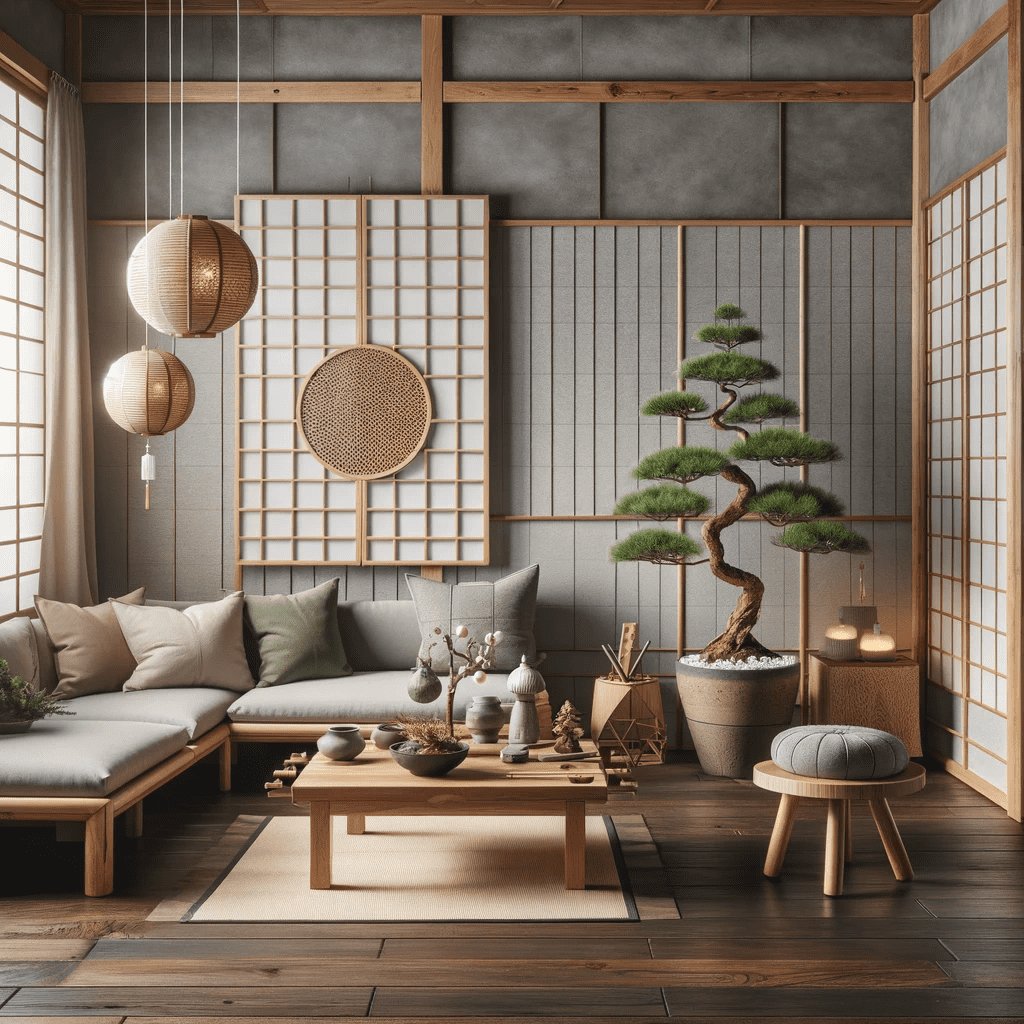 Decor Elements
Simplicity and nature guide your selection of Zen decor elements. Stone ornaments, bamboo accents, and paper lanterns complement the minimalistic charm. Incorporate elements like water fountains or sand gardens for a sensory experience that cultivates calm.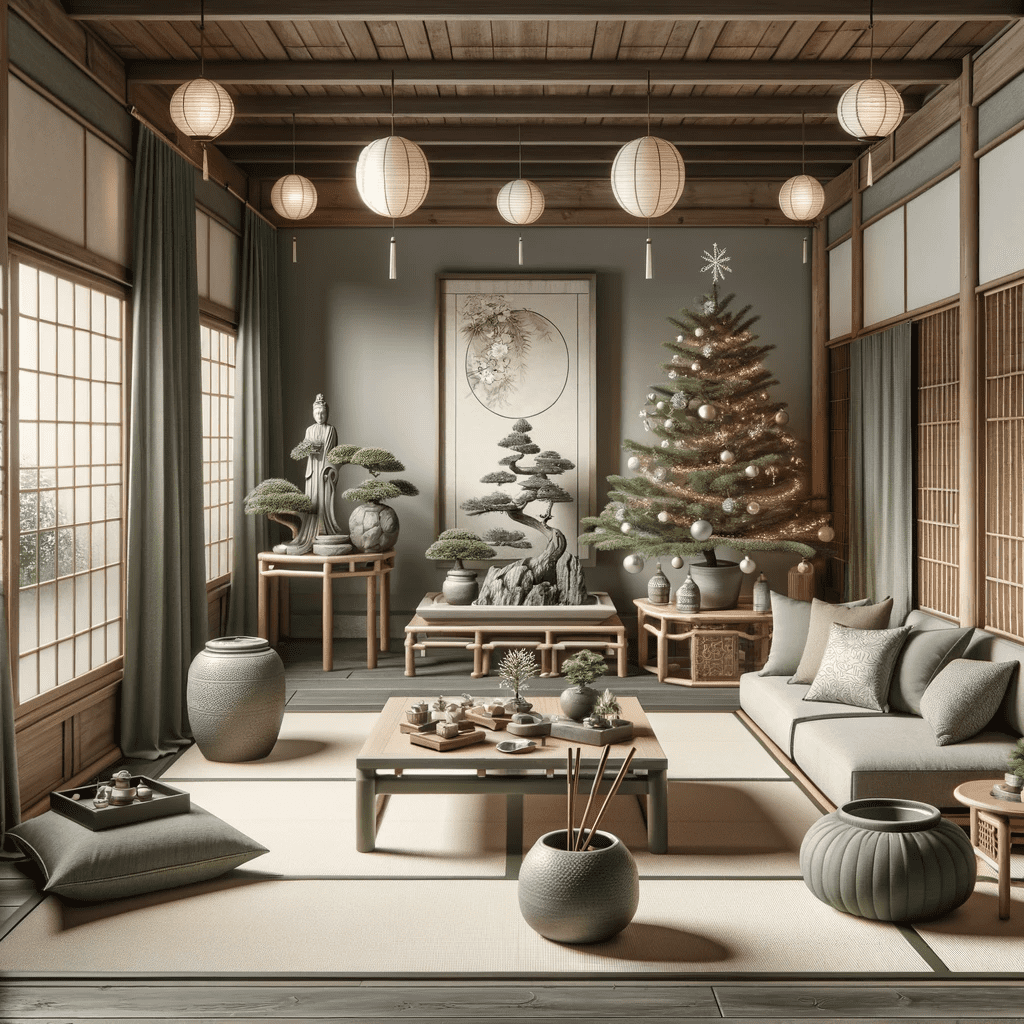 Window Elements
Let natural light filter through unobtrusively with sheer, neutral-toned curtains. Hanging simple, elegant ornaments like origami shapes or solitary branches in the windows can capture the essence of Zen and the peacefulness of a wintery scene outside.
Lighting
Lighting should be soft and unobtrusive, promoting a sense of inner peace and reflection. Delicate paper lanterns, tea lights in stone holders, or lamps with rice paper shades cast a gentle, soothing glow throughout the space.
Christmas Tree
In lieu of a traditional Christmas tree, consider a minimalist bonsai tree or a bamboo arrangement adorned with sparse decorations like paper cranes or wooden beads. The goal is to reflect the Zen principle of less is more, creating beauty through restraint.
Table Decor
For the table setting, select simple, elegant dishware and create a centerpiece with elements like a single blooming orchid or smooth river rocks. Use a table runner made of natural fibers, and keep seating uncluttered to maintain a clear, open space for gathering.
Accents
Place meditation cushions around the living space for impromptu seating or quiet reflection. Zen accents may include a Buddha statue, pebble trays, or an incense burner – each contributing to a meditative ambiance.
DIY Idea
Craft a Zen garland by stringing together natural elements such as dried lotus pods, small twigs, and smooth stones. This can be draped over a mantelpiece or along a dining table as a representation of harmony and the natural world
An Asian Zen Christmas is about celebrating the holidays with mindfulness at the forefront, fostering an environment where peace and joy are found in simplicity. It's a reminder that the heart of the season lies not in the grandeur of its decorations, but in the quiet moments of togetherness they frame.
6.Mid-Century Modern Christmas decoration
Celebrate the holidays with a Mid-Century Modern twist, where the charm of the '50s and '60s design meets the merriment of Christmas. This design era, known for its iconic furnishings and bold statements, provides the perfect inspiration for a stylish, nostalgic holiday season.
Color Palette
Embrace a palette that reflects the era, with olive greens, mustard yellows, and warm browns. Add splashes of retro reds or teals for a festive touch. These shades create a backdrop that's both comforting and chic, capturing the spirit of mid-century optimism.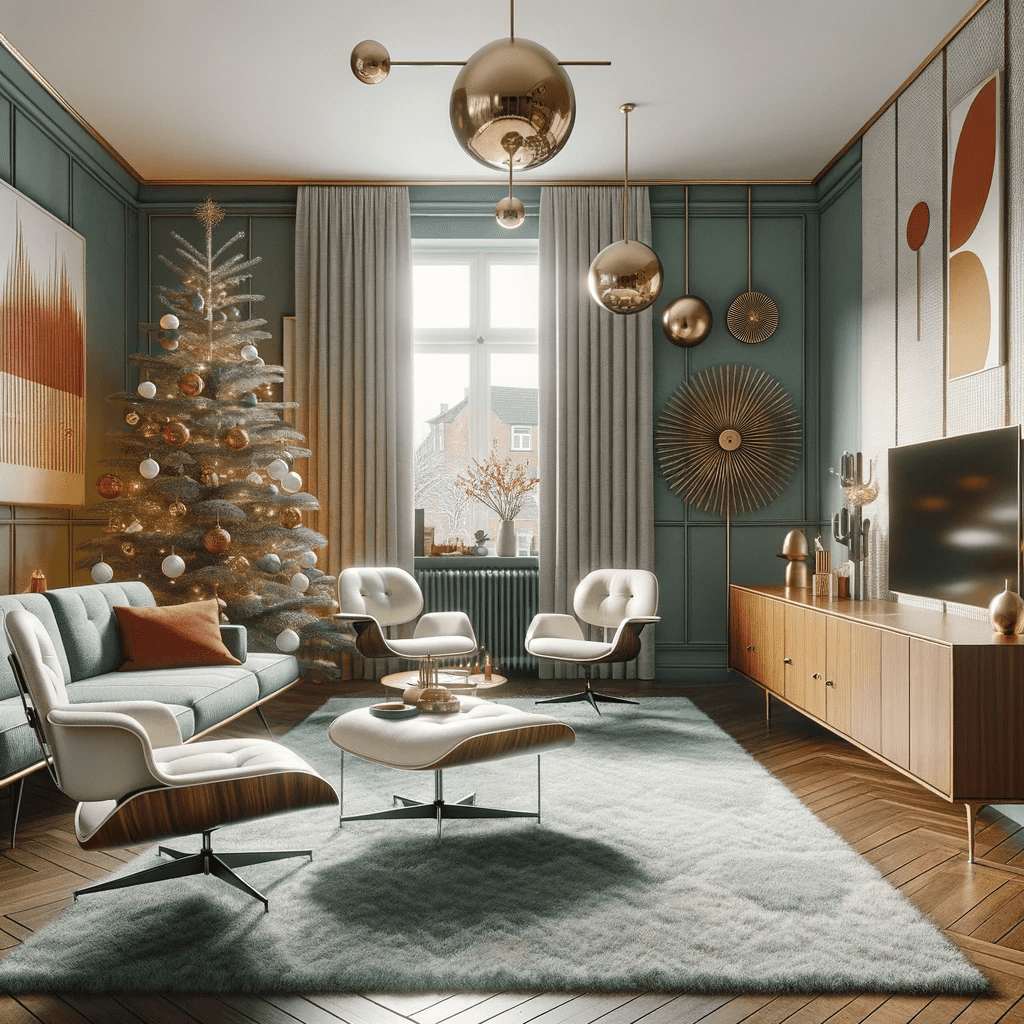 Decor Elements
Think atomic stars, boomerang patterns, and Sputnik ornaments. Incorporate vintage-inspired baubles, starburst designs, and teak wood elements. Mid-Century Modern thrives on statement pieces, so select a few key decorations that resonate with the era's distinct aesthetic.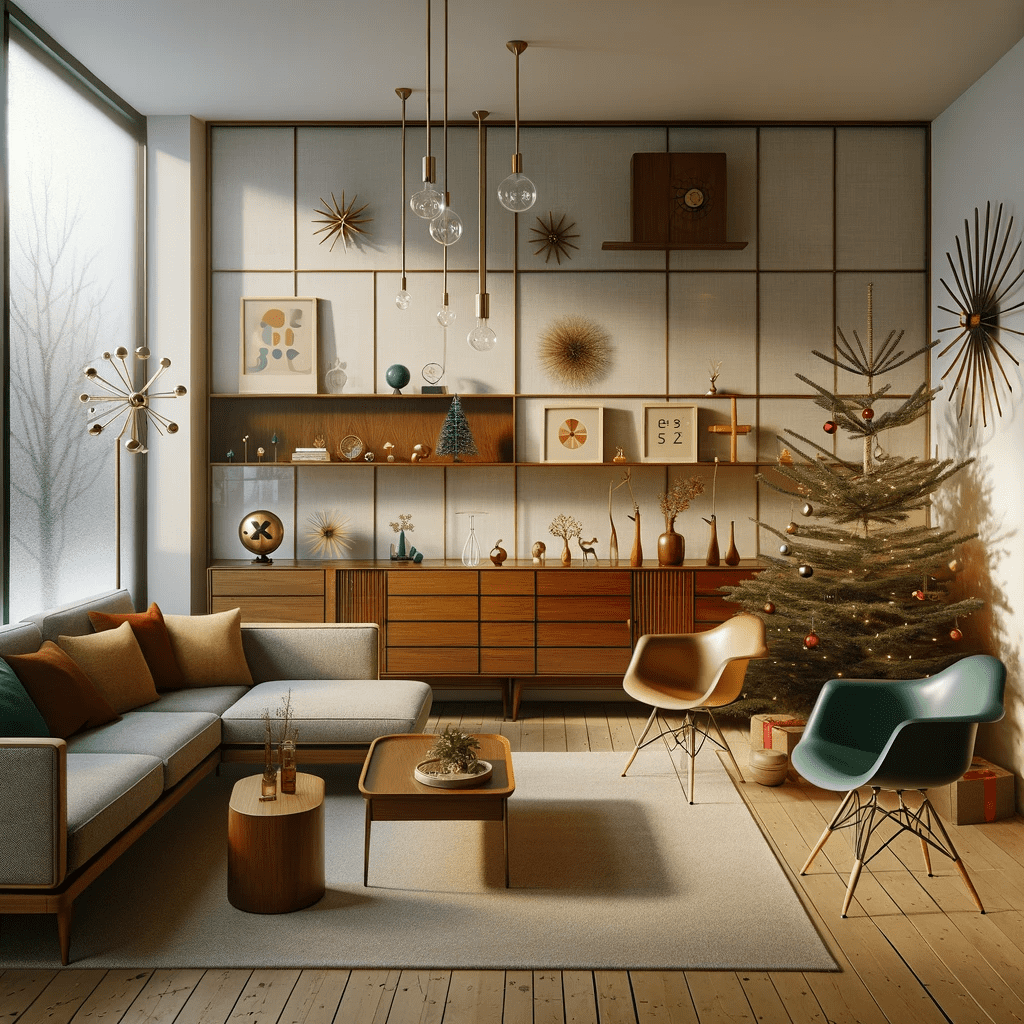 Window Elements
Windows are dressed smartly yet simply, with sleek, horizontal blinds or patterned drapes in period-appropriate prints. Consider hanging simple, stylized wreathes or a string of wooden beads to catch the eye without overwhelming the space.
Lighting
Ambient, warm lighting is a hallmark of this era. Choose fixtures with geometric shapes and a mix of materials like brass, wood, and colored glass. Table lamps with sculpted bases and fiberglass shades provide a soft glow perfect for cozy, winter evenings.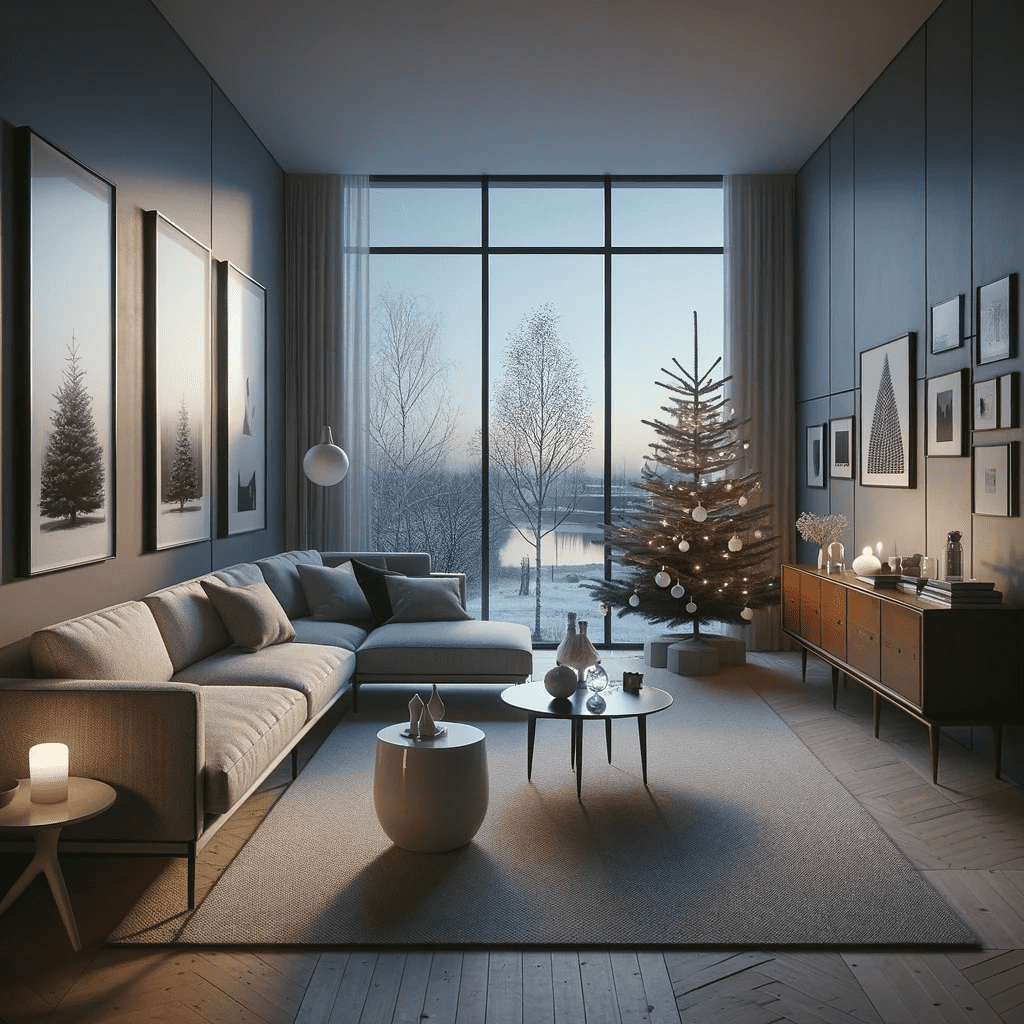 Christmas Tree
Your tree is an homage to the past with its aluminum silhouette or a classic pine adorned in vintage ornaments. Opt for tinsel, garlands of wooden beads, and hand-blown glass ornaments. Top it with a retro-inspired angel or star for the quintessential Mid-Century Modern look.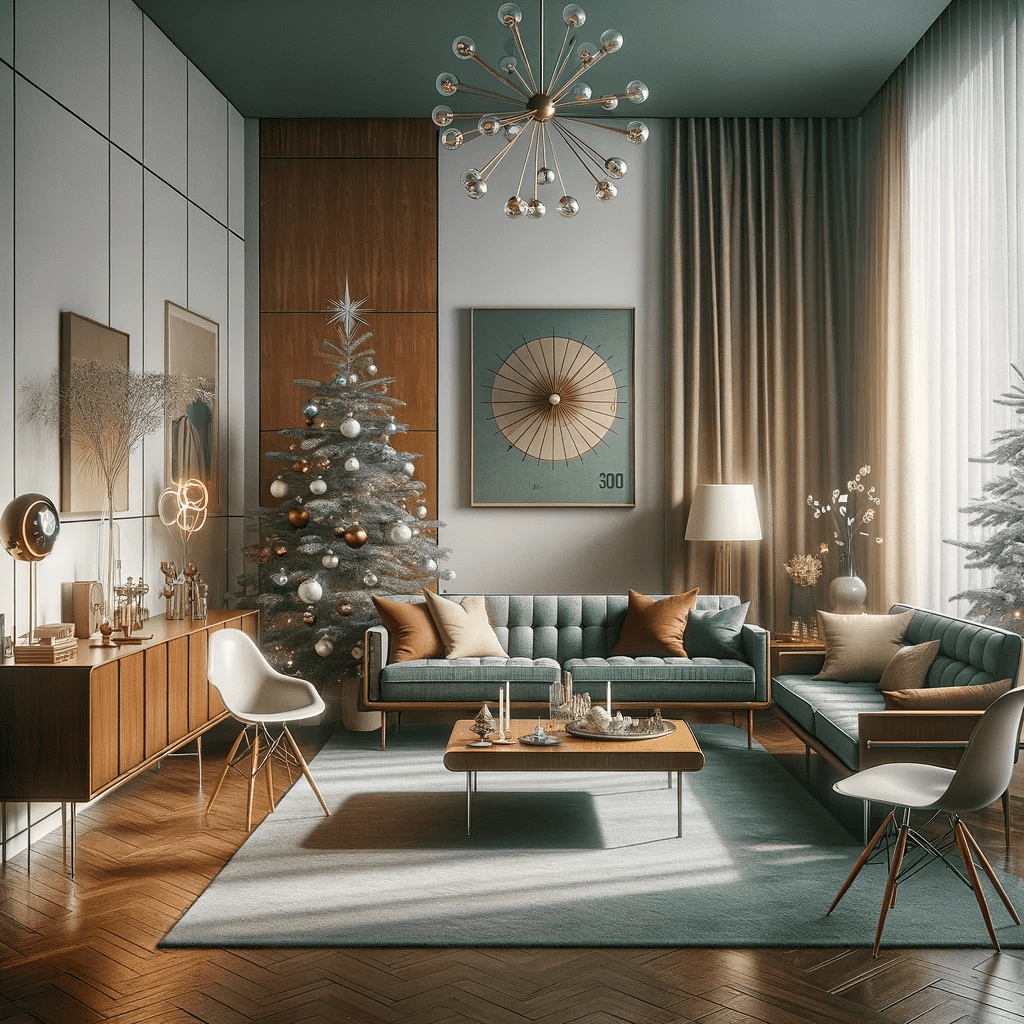 Table Decor
Set a table that would make the Drapers proud. Use clean-lined dishware with atomic designs, paired with gold or brass flatware. A centerpiece featuring tapered candles in mixed-material holders, nestled among a string of pine or holly, sets a festive scene.
Accents
Accentuate with iconic mid-century furniture, throw pillows in geometric prints, and shag rugs. Add period-appropriate pieces like a sunburst clock or a bar cart decked out with vintage cocktail glasses to complete the ambiance.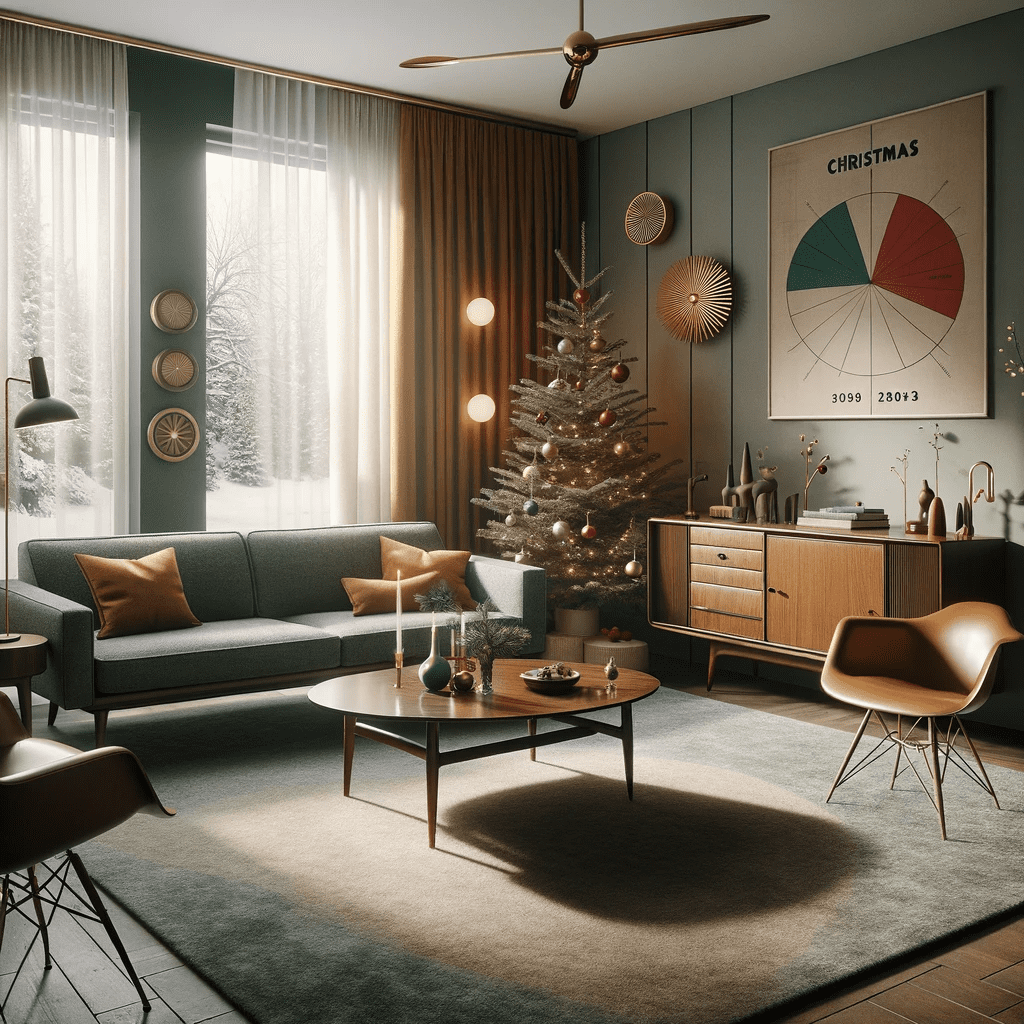 DIY Idea
Create your own Mid-Century Modern paper ornaments. With scissors, cardstock, and a bit of creativity, fashion 3D diamonds, starbursts, or atomic shapes. Hang them on the tree, in the windows, or above the dining area for a personalized touch.
A Mid-Century Modern Christmas is a playful fusion of past and present, where the nostalgic warmth of the holidays meets the cool, innovative spirit of the mid-20th century. It's about creating a festive space that's as stylish as it is welcoming, ensuring every holiday gathering is merry and bright.
7. 70s Interior Design Christmas decoration
This holiday season, rewind to the sensational '70s for inspiration, crafting a Christmas that's as funky as it is festive. The 1970s were all about bold colors, dynamic patterns, and a carefree spirit that turned interior design into a fun, expressive statement.
Color Palette
Your 70s Christmas palette is loud and proud: think harvest gold, avocado green, and poppy orange. These are the hallmark hues of the decade, infused with a Christmas twist—splashes of cherry red and pine green to tie back to the traditional holiday vibe.
Decor Elements
The '70s vibe is all about fun with a capital "F". Incorporate playful elements like lava lamps turned into Christmas lights, reflective disco balls as ornaments, and funky fiber art. Don't shy away from kitsch—embrace it with open arms for this holiday theme.
Window Elements
Dress your windows with beaded curtains or bold-patterned drapes that speak to the eclectic '70s style. Hanging macramé planters adorned with festive foliage or frosted pine cones will catch the winter light and set a groovy mood.
Lighting
Go all in with mood lighting—colored bulb strings, lava lamp centerpieces, and candles in quintessentially '70s sunset colors. Think of how a softly lit room can take your Christmas ambiance from calm to cool in an instant.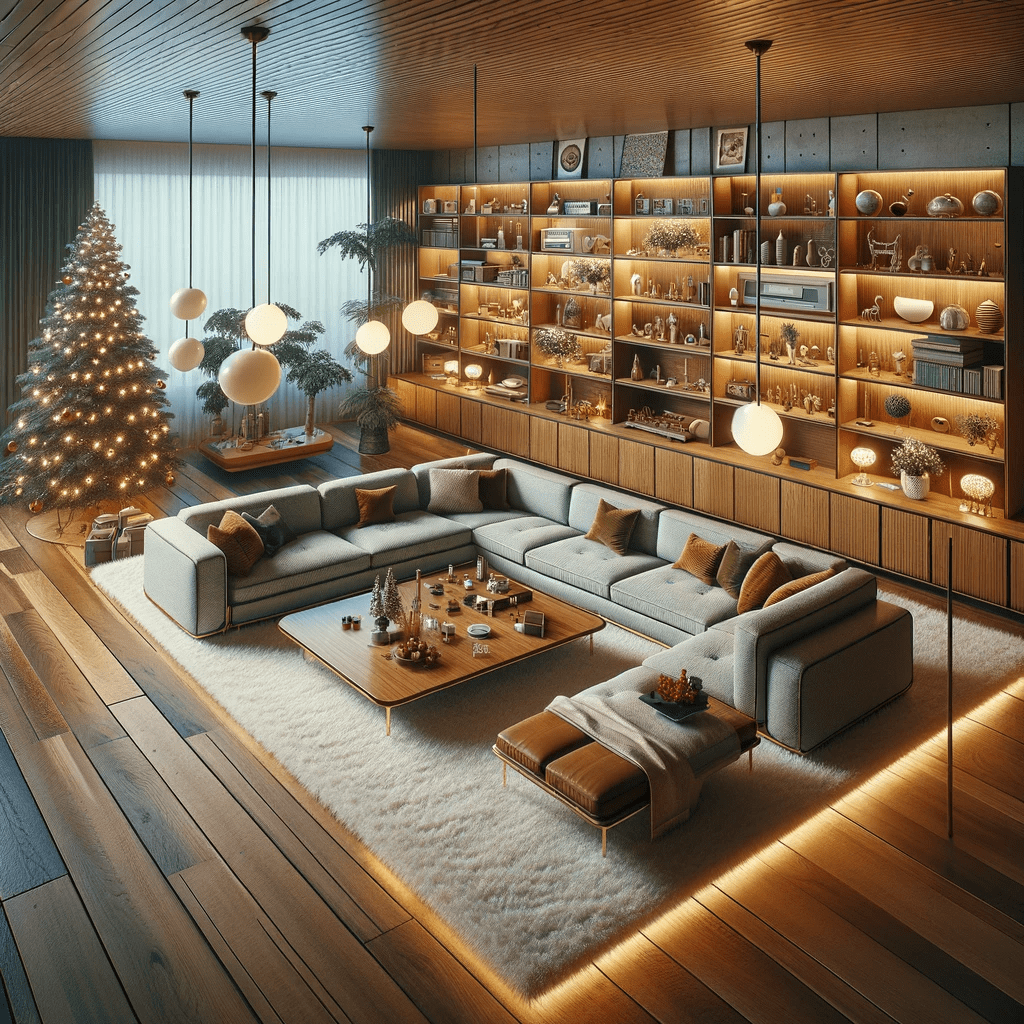 Christmas Tree
Deck out your tree with a '70s flair by using tinsel, rainbow lights, and ornaments in psychedelic patterns. Don't forget a retro star topper. If you're up for it, an aluminum Christmas tree is the epitome of this decade's space-age aesthetic.
Table Decor
Set your table with melamine dishes in vintage patterns, paired with brightly colored glassware. Place a fondue set in the center, surrounded by Christmas crackers in funky retro prints, and you have a '70s party ready to happen.
Accents
Accentuate with iconic '70s items like shag rugs, inflatable furniture, and plenty of houseplants. Throw in some bean bag chairs for casual seating and hang framed '70s record albums or classic movie posters for wall art.
DIY Idea
Craft your own '70s-inspired ornaments by covering baubles in fabric with groovy prints, or create decoupage ornaments with pages from vintage Christmas catalogs. It's a personalized touch that screams "Me Decade.
A '70s-themed Christmas is a nod to a time when more was more, and brighter was better. It's a celebration that's as much about nostalgia as it is about making new memories, with a soundtrack that's just as iconic as the decor. Dance into your Christmas celebration with the spirit of the '70s guiding your sleigh, and let the good times roll!
8. Bauhaus Christmas decoration
Step into a Bauhaus-inspired Christmas, where the gifts of simplicity, functionality, and modernism are wrapped under the tree. This influential design school offered an aesthetic that was ahead of its time, focused on the harmony between function, craftsmanship, and fine arts.
Color Palette
Adopt a Bauhaus color scheme that leans on primary colors—bold reds, blues, and yellows, balanced by clean whites and industrial grays. These colors speak to the movement's pure, geometric forms and lend a gallery-like backdrop to holiday festivities.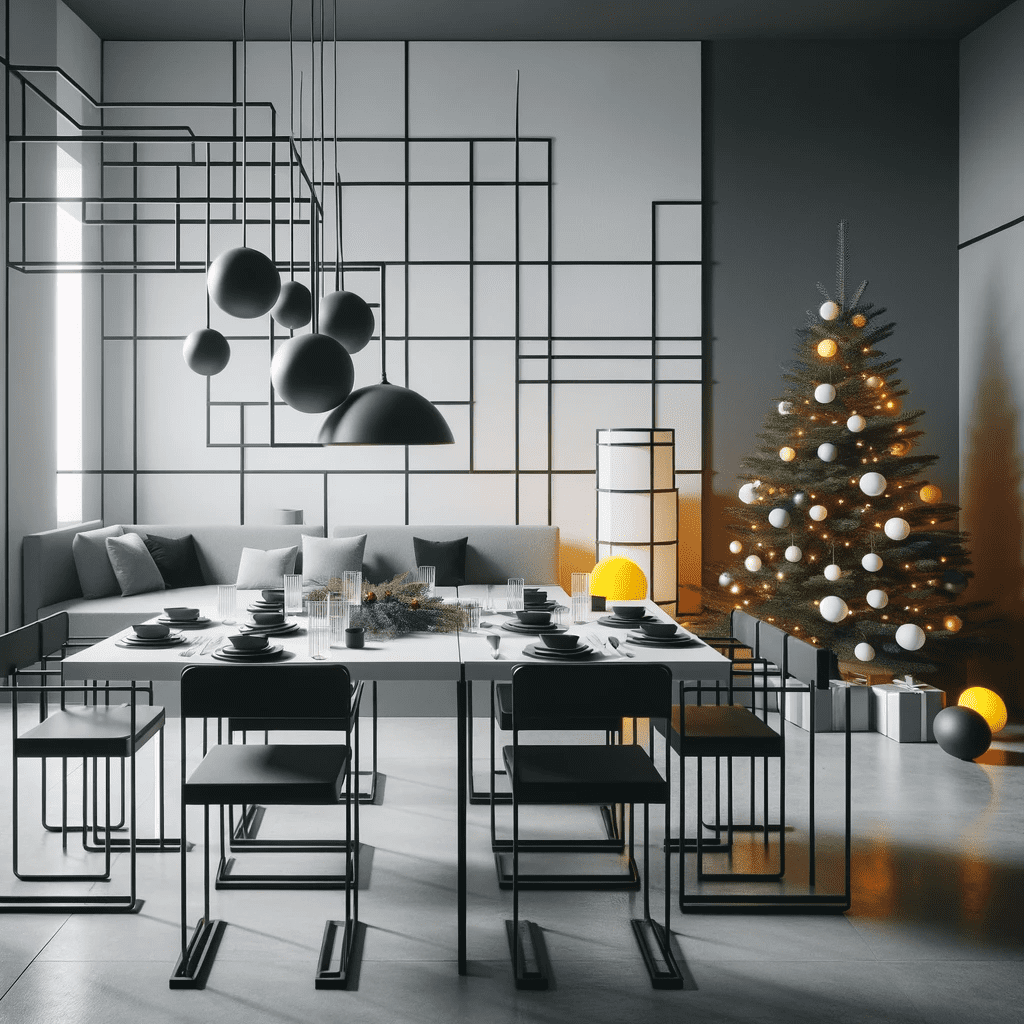 Decor Elements
Choose decor that embodies the Bauhaus motto: "Less is more." Look for geometric shapes and streamlined designs. Ornaments are simple yet impactful, focusing on form and material over embellishment.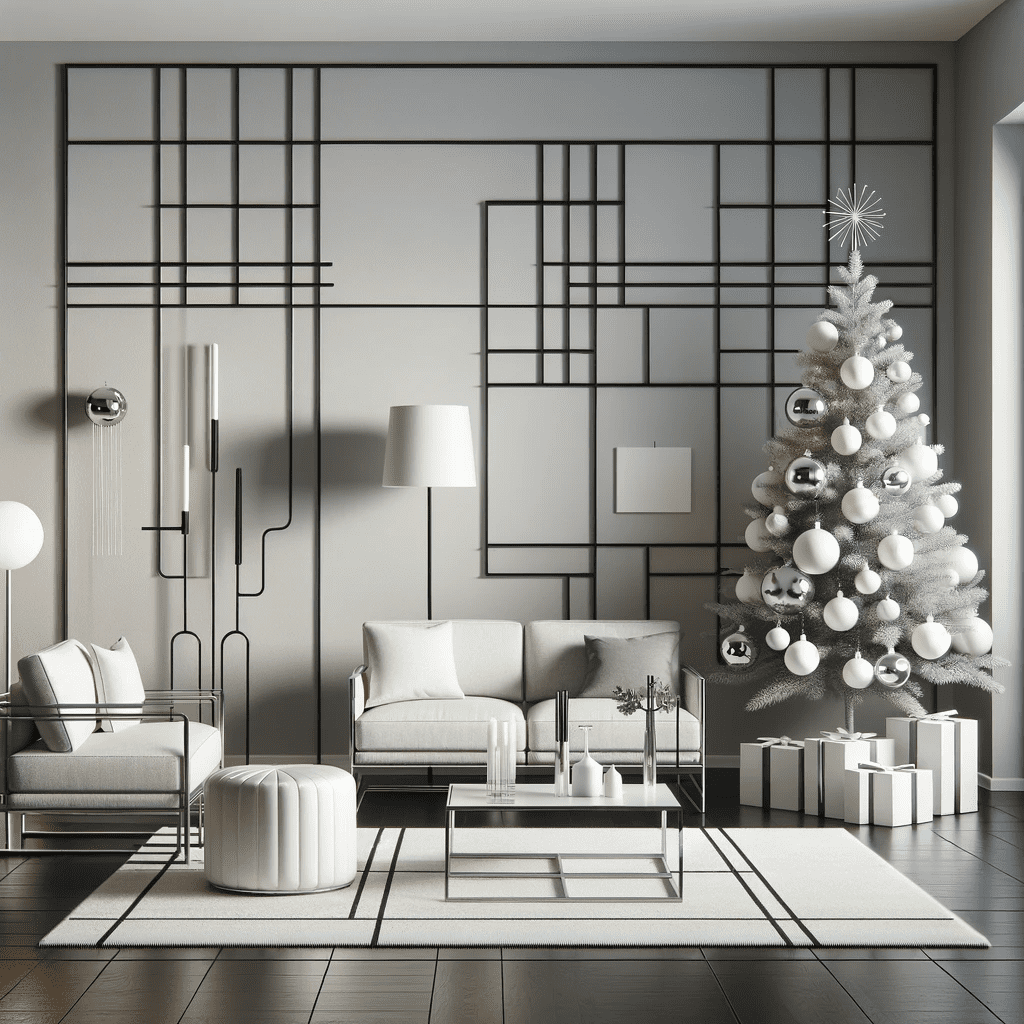 Window Elements
Windows should make a statement of minimalist design, with simple, yet elegant, frosted or clear geometric patterns. If curtains are a must, choose functional and unfussy designs, like solid colors or subtle stripes that reflect the clarity of the Bauhaus vision.
Lighting
Bauhaus celebrated the beauty of industrial materials, so for lighting, opt for pieces that showcase metal, glass, and concrete, with clean lines and functional design. Geometrically shaped fixtures with exposed bulbs can act as sculptural centerpieces.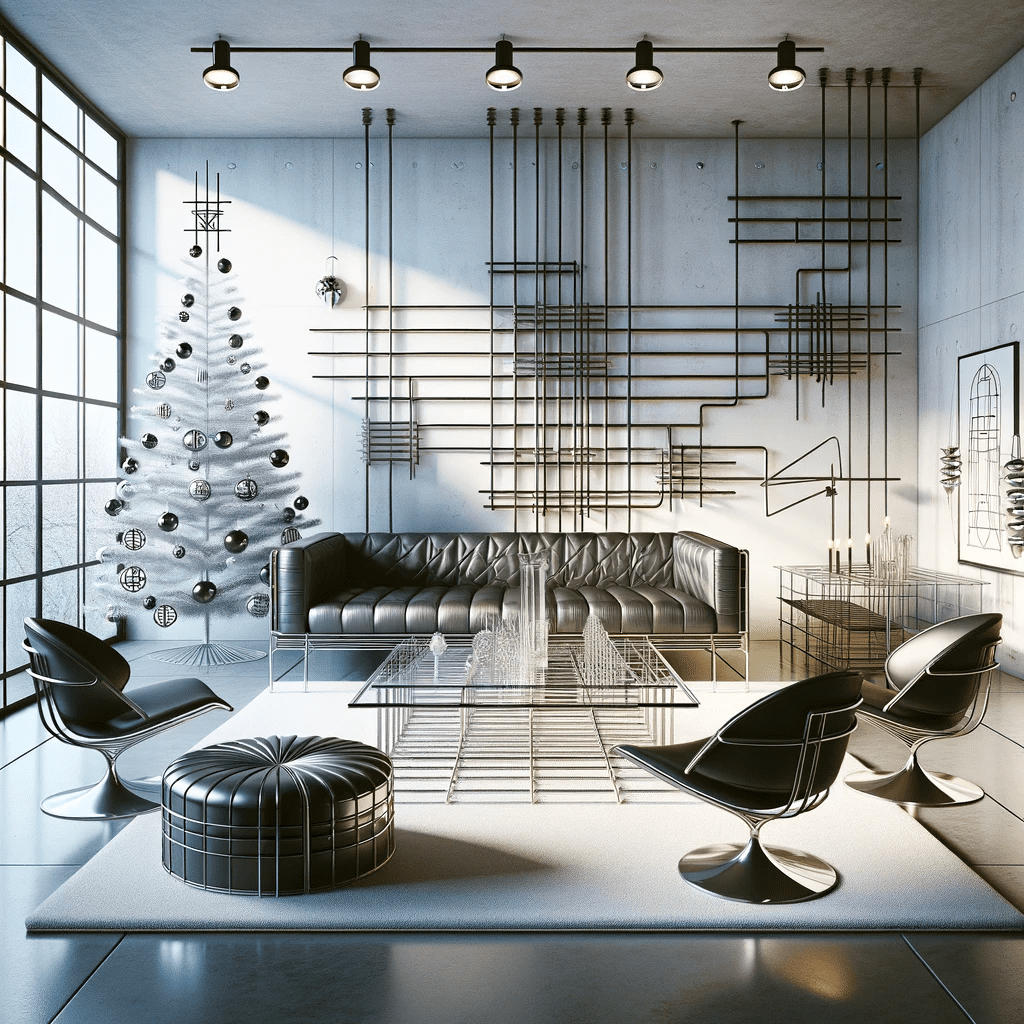 Christmas Tree
Your Bauhaus tree is a piece of art in itself. Embrace unconventional materials and shapes with a minimalist metal tree, or if you prefer a traditional fir, decorate it sparsely with handmade ornaments that focus on geometric shapes—circles, triangles, squares.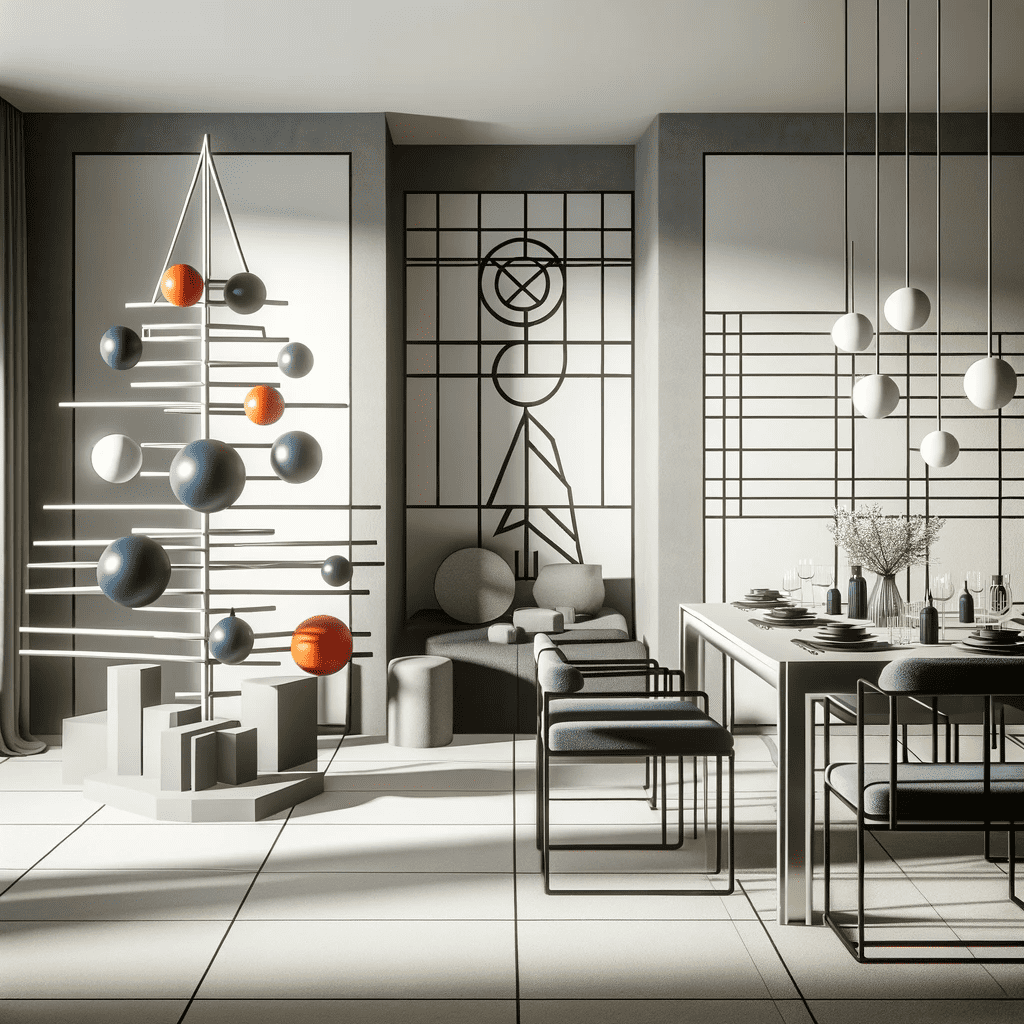 Table Decor
Set a functional yet festive table with Bauhaus-inspired wares. Think angular cutlery, tubular steel furniture, and tableware in primary colors with a modernist design. Centerpieces should be understated—consider a single, bold-colored candle or a sculptural piece in a primary color.
Accents
Accents are chosen for their design and craftsmanship—smooth lines, tubular steel, and glass. Include iconic Bauhaus furniture pieces, like a Wassily chair or a Marcel Breuer table, to make a statement.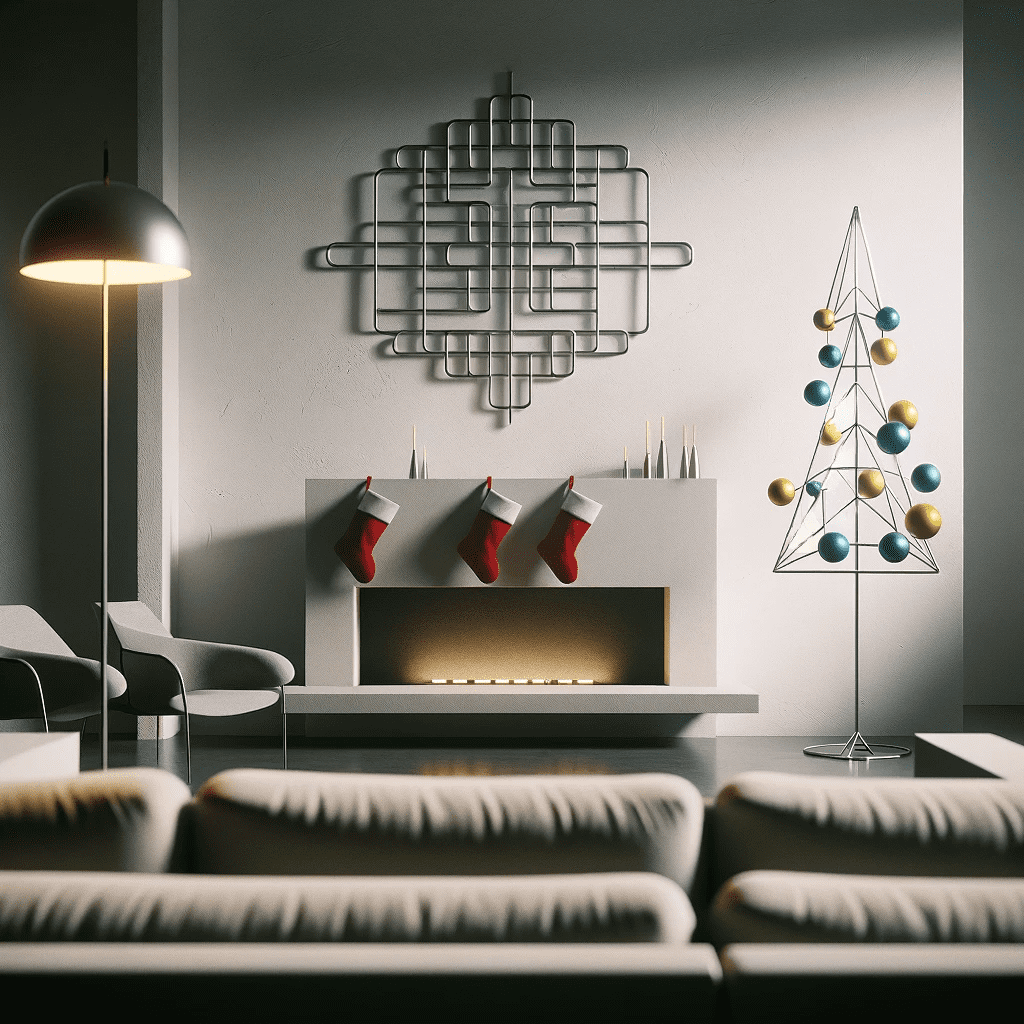 DIY Idea
Create your own Bauhaus-inspired paper ornaments. With construction paper in primary colors, cut out basic shapes and layer them to make abstract designs. They can be used as ornaments, garland, or even unique gift tags for a creative and personal touch.
A Bauhaus Christmas brings the essence of 20th-century modernism into the warmth of your home. It's about celebrating the season with a design-conscious eye, ensuring that every element has a purpose and a place, all while keeping the holiday spirit alive and well.
9. Art Deco Christmas decoration
Imagine the opulence of a 1920s Christmas soirée, where geometric chic meets yuletide glam. The Art Deco style, with its affinity for bold lines and luxurious finishes, provides a dazzling backdrop for festive cheer. Here's how you can weave this vintage splendor into your holiday home décor:
Color Palette
Your Art Deco Christmas palette is a medley of rich, saturated tones. Think deep greens and blues, juxtaposed with the luxurious gleam of gold and silver. A backdrop of black and creamy whites elevates the elegance, allowing metallics to take center stage.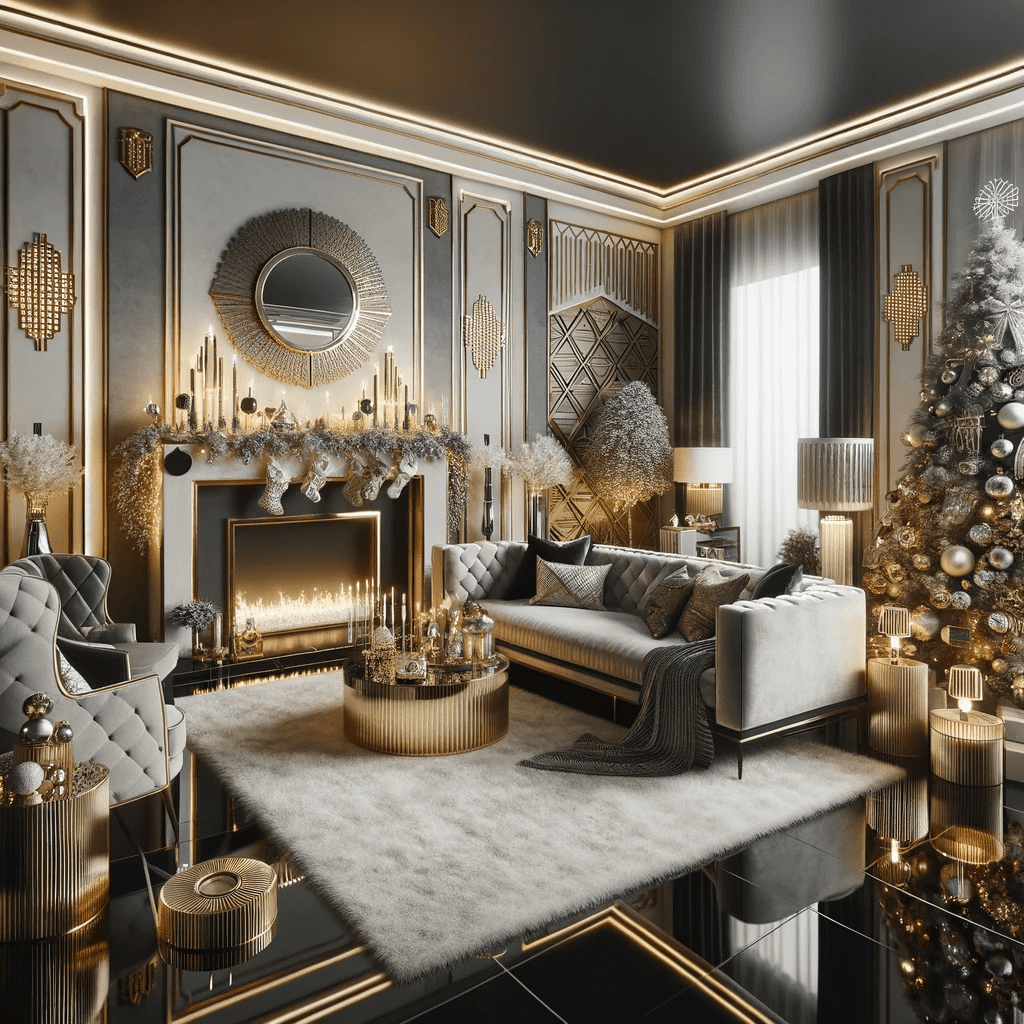 Decor Elements
Geometry reigns supreme in Art Deco. Introduce festive flair with angular decorations and faceted designs. Ornaments in stepped profiles and fan shapes, alongside tinsels that mirror the classic sunburst motifs, add that quintessential Deco drama.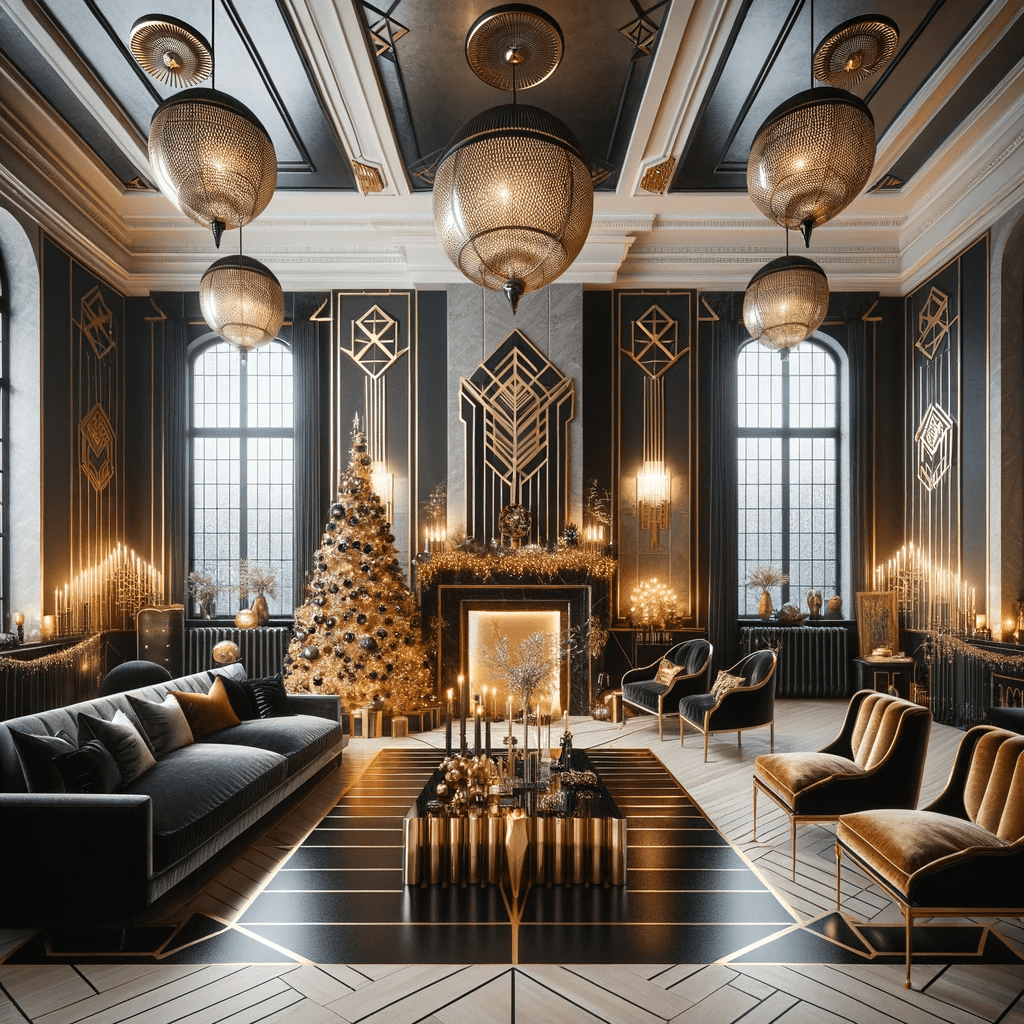 Window Elements
Dress your panes in the grandeur of the era. Sumptuous velvet curtains in jewel tones, tied back with gold cords, frame your frosty winter views. A garland of geometric shapes or metallic baubles complements the look, sparkling as they catch the light.
Lighting
Lighting is a centerpiece of this style, with sleek, polished fixtures. Lanterns and lamps with frosted glass and brass or chrome finishes diffuse a soft, golden hue, lending a cozy yet luxurious ambiance to those long winter nights.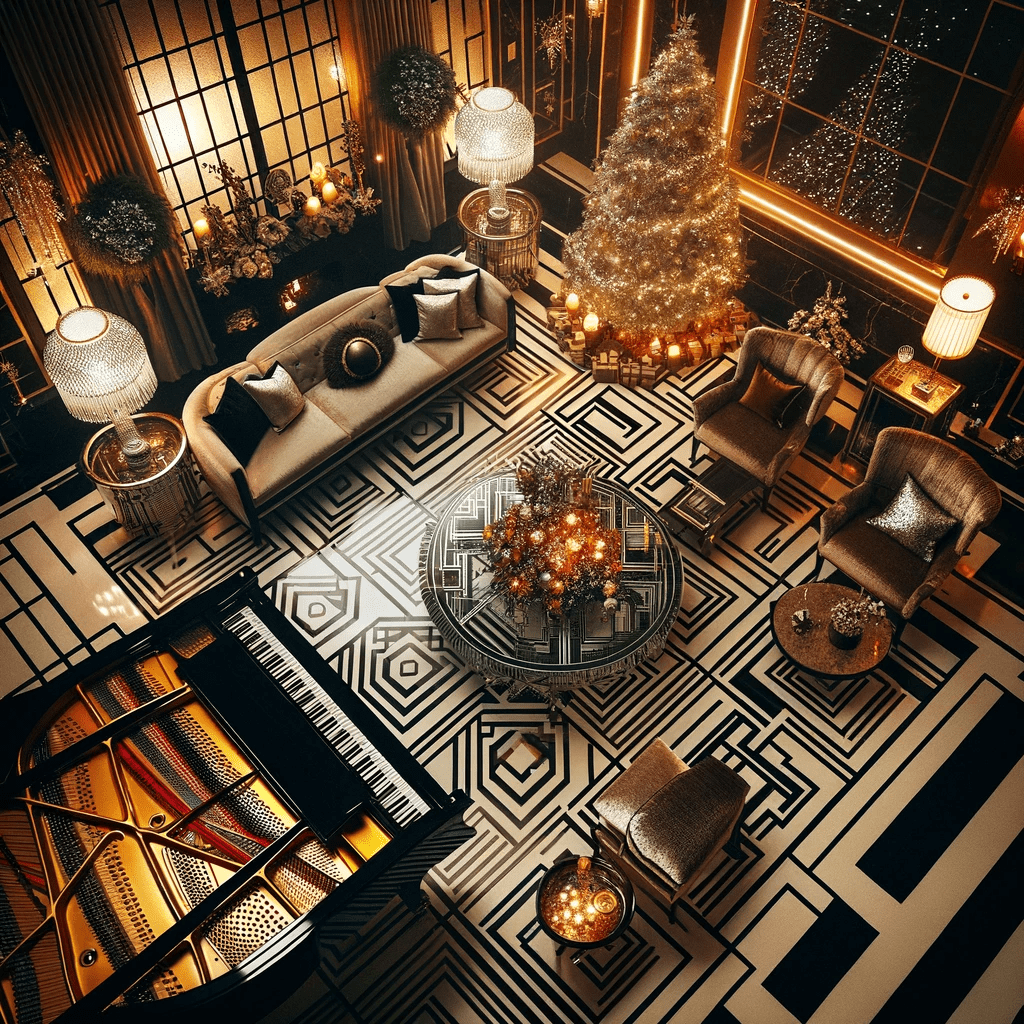 Christmas Tree
Your Art Deco Christmas tree is a masterpiece of modernity and splendor. Adorn it with baubles in streamlined designs—spheres, teardrops, and diamonds. Add in some vintage-inspired ornaments for authenticity, and don't shy away from an abundance of sparkling lights.
Table Decor
Create a tablescape that's all about glamour. A monochrome tablecloth with a metallic runner sets the base. Top it with bold, geometric candlesticks and crystal glassware that reflect the grandiose dinner parties of the Art Deco era.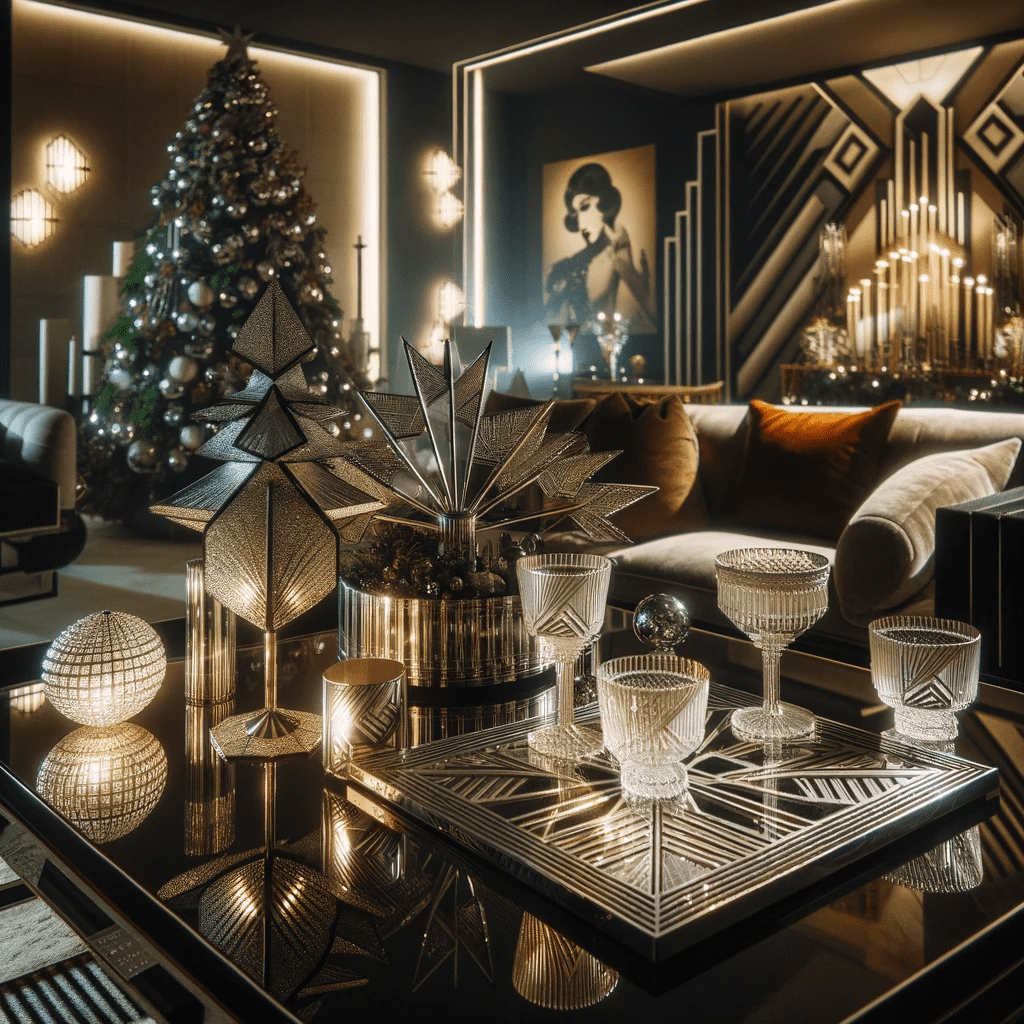 Accents
Incorporate accents that exude luxury—velvet cushions, satin throws, and mirrored trays. Infuse symmetry in your layout with pairs of metallic vases or bookends that boast the stylized lines and forms characteristic of the time.
DIY Idea
Craft your own Art Deco-style paper chain to drape across the mantel or tree. Use metallic paper, cutting out traditional Deco shapes, and link them together for a custom, handmade nod to the past.
10. Scandinavian Christmas decoration
This holiday, let the minimalist beauty and understated elegance of Scandinavian design bring a cozy, light-filled cheer to your home. Scandinavian Christmas is all about warmth, simplicity, and a harmonious blend of modern and rustic charm.
Color Palette
A Scandinavian palette is soothing and nature-inspired: snowy whites, soft greys, and gentle blues, accented with touches of forest green and crimson red for that festive spark. It's all about creating a calm, wintery backdrop that feels like a snug, Nordic retreat.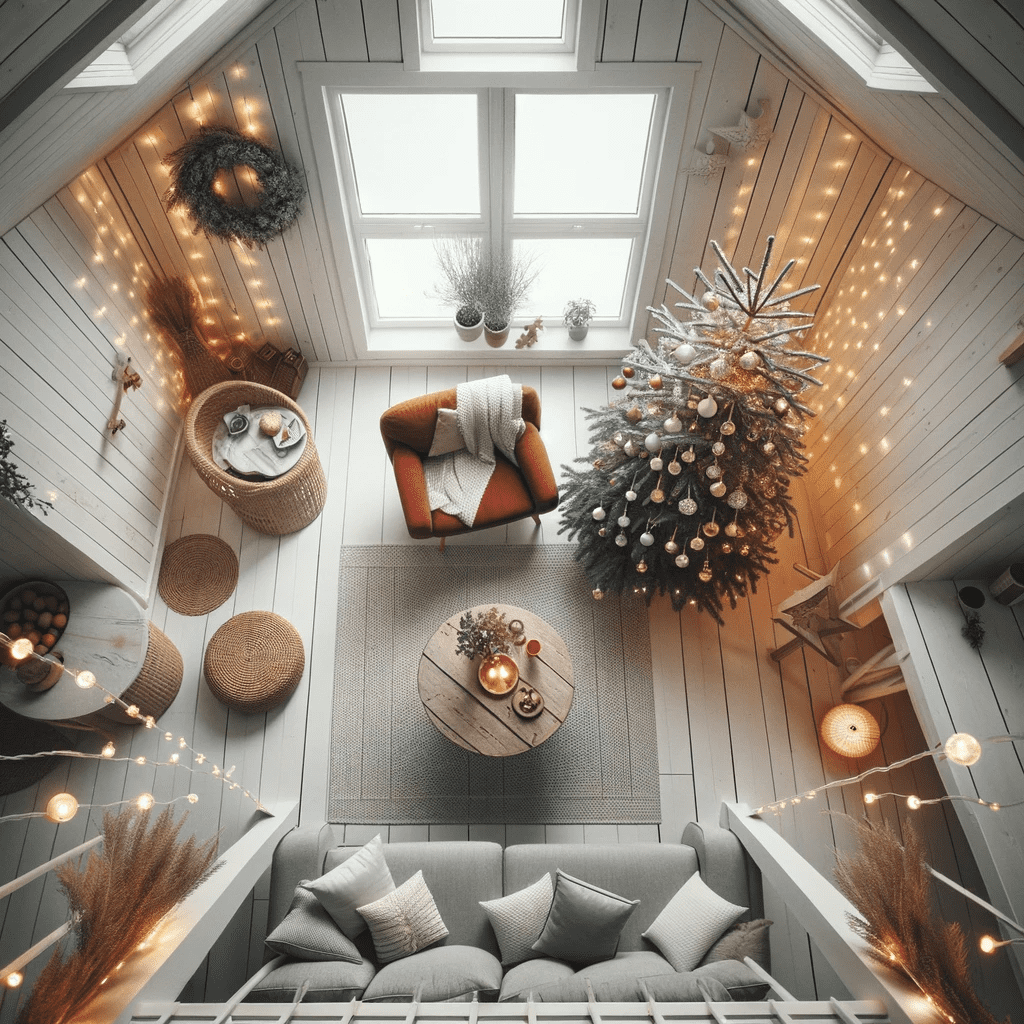 Decor Elements
Opt for decor that marries form with function—clean lines, organic materials, and handcrafted simplicity. Wooden figurines, felted wool ornaments, and hand-thrown ceramics reflect the tactile qualities prized in Scandinavian homes.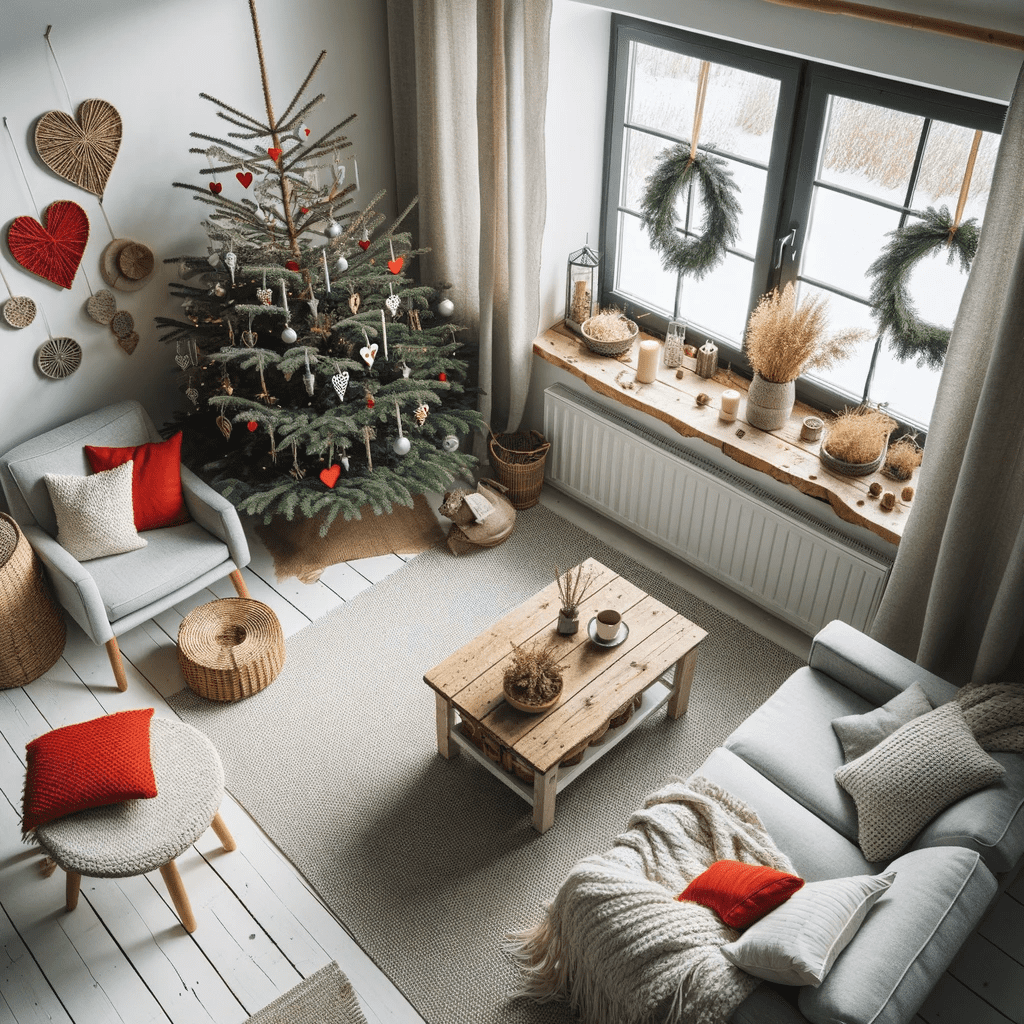 Window Elements
Embellish your windows with delicate paper stars and geometric-shaped candle holders that cast a warm, inviting light. Keep curtains light and airy to allow as much daylight as possible to penetrate the room, essential during those long Nordic winters.
Lighting
Soft lighting is the cornerstone of hygge, the Danish art of coziness. Scatter an array of candles, opt for fairy lights with a soft glow, and choose lamps with paper shades to diffuse light gently across the room.
Christmas Tree
Adorn your Christmas tree sparingly with a focus on quality over quantity. Natural materials like wood, linen, and wool make for beautiful ornaments, while simple string lights add a touch of magic without overpowering the tree's natural beauty.
Table Decor
Set a naturally elegant table with a linen tablecloth, ceramic dishes, and simple glassware. Include a minimalist centerpiece—perhaps a single branch of spruce in a vase, or a row of candles in mixed heights.
Accents
Scandinavian design accents are all about comfort and practicality—cozy knit throws, plush sheepskins, and cushions in natural fibers. And don't forget the power of books as decor; a stack of beautifully bound volumes can add a personal touch.
DIY Idea
Craft a set of Scandinavian-inspired ornaments using salt dough. Cut into traditional shapes like stars, hearts, or evergreens, and then paint them in white with touches of red and grey. It's a fun family activity with charmingly rustic results.
A Scandinavian Christmas is a tapestry of sensory experiences, where the visual serenity of the decor invites moments of stillness, and the glow of candlelight warms the heart. It's about enjoying the simple pleasures and the festive spirit in a setting that's tranquil, bright, and joyful.
As we traverse through these styles, remember that your Christmas decor is a personal symphony of your taste and the tales of your space. Let each ornament sing, every light twinkle with the joy of the season, and may your home reflect the beauty of your holiday spirit.
May your Christmas be as unique and special as the styles that inspire you.
FAQ
How can I decorate for Christmas in a small space without it feeling cluttered?
Focus on simplicity and the strategic use of decorations. Opt for a smaller tree or even a wall-mounted version. Use vertical space by hanging lights or garlands. Choose a few standout pieces that reflect your style without overwhelming the room. For example, in a Japandi-styled space, one or two carefully chosen ornaments can make a serene impact.
What are some eco-friendly decorating tips for a sustainable Christmas?
Sustainability is stylish! Choose natural decorations like pinecones, branches, and handmade straw ornaments. LED lights consume less energy, and investing in quality decorations that last for years reduces waste. In the Boho and Scandifornian styles, using organic and recycled materials aligns perfectly with an eco-conscious approach.
How can I incorporate my existing decor into a new Christmas style without having to buy everything new?
Identify the colors and elements in your existing decor that can complement your desired Christmas style. For example, a Contemporary style can be achieved by adding metallic accents to your current modern decor. Mid-Century Modern ornaments can easily blend with vintage pieces you might already have.
Are there any tips for integrating Christmas decorations into a home with a very distinct style, such as Asian Zen or Bauhaus, without it clashing?
Yes, the key is cohesion. For Asian Zen, incorporate elements like simple light strings or natural wood ornaments that maintain a sense of calm. In a Bauhaus-styled home, opt for geometric-shaped decorations and primary colors that echo the Bauhaus palette and shapes.
Can you suggest some child and pet-friendly Christmas decorating tips?
Certainly! Avoid fragile ornaments and opt for shatterproof ones instead. Keep decorations out of reach where they can't be pulled down or chewed on. Consider a Scandinavian approach with its minimalistic style and charming yet simple decorations like paper crafts, which are less likely to harm curious hands and paws.